Trip code: C-264
Routing: Hanoi- Mai Chau- Hang Kia-Hanoi/ 2Days/ 2 ways
Type of car: Mercedes Springter, Ford Transit (16 Seats)
Number of seats: Mini-Van 16 Seats
Validity: 2023-12-31
Price: 369.6 $
We accept payment via:
|
We are Hanoi based car rental company and provide private car to transfer from Hanoi (airport/ city) to Mai Chau mountains (north west) in Hoa Binh province, some 160 km/ one way and driving time around 3 hours and half.

Travel schedules:
Day1: Pick up at hotel in Hanoi and drive for Mai Chau valley (most of people will stay overnight at Lac or Poong Coong Village)
Day2: Pick up at Lac Village of ethic thai and return trip back Hanoi, drop off at airport or Hanoi hotel


Hire car Inclusion: Local driver, gas, road tolls, parking fee
Hire car Exclusion: hotel rooms, travel insurance, personnel expenses

Note: There is many local home-stay in Lac or Poong coong village, our driver can help in checking out any local ethnic family for your overnight or order meals for dinner

Further information, please Email: info@vietnampathfinder.com

Lac village of ethnic Thai in Mai Chau Valley

Lac Village is the home to convergence of ethnic groups. Tourism services and tourism products here are incredibly diverse and professional. There are currently 25 "hotel" stilt-houses in the Lac Village built under the plan, which are numbered in order from 01 to 25. These stilt-houses are ornamented with the bamboo. They all are respectively tall, clean, immerse and still maintain the ancient architectural traditions. Amenities include quilt, cushion, and pillow neatly and tidily folded. Adjoining bedroom is floor for dinner and tea. The rustic and cozy life somewhat mounted both the host and guests to become familiar, many of them have become intimates. In particular, visiting Lac Village, tourists cannot miss the specialties of the land. Tourist will be invited to sit on the adorned mat in the center of the house. Then they will be invited to enjoy "Can" wine (a sort of popular wine in the upland and drunk out of a jar through pipes), "com lam" (a kind of delicious rice in the ethnic groups) with grilled meat. Tourists also have a chance to taste numerous ethnic dishes that anyone who ever once tasted will never forget, such as grilled leaf-wrapping chicken, steamed stream fish, stir-fried bitter bamboo shoots...

Local home-stay with local shops in lac Village

When the night goes down, tourists will have a chance to immerse in the space of the Thai people with romantic performances captivating the human hearts. Traditional song-and-dance performances of the Thai young boys and girls have made a special appeal of Lac Village - Mai Chau; simultaneously, contribute to create the unique identity of the Thai culture. One night at Lac Village is something truly unforgettable when tourists have an opportunity to immerse in peaceful scenery, hanging fog filled the sky and murky cliffs. Taking part in Mai Chau tour to Lac Village, the convergence of gentle and honest ethnic people, and a diverse ethnic cultural background, tourists actually enjoy unforgettable experiences. Thanks to the lure of travel landscapes, unique features of traditional Thai culture, Lac village deserves a tourist highlight of Mai Chau tourism.
Vietnampathfinder Car Rental Services - 17 years' experience.
We are a private and professional car rental company, head office based in Hanoi city capital of Vietnam, we have been providing car/ van rental services in Vietnam for over 17 years now, with large choice of private car/van/bus for working, business trip, family travel, also group tours for tourist, student groups...
Our private cars and coachs are all new, from standard to Luxury vehicles, limousine vans.
Our professional car rental services 24 hours a day, 7 days a week to and from all major Vietnam airports such as Noi Bai (in Hanoi), Danang (in Danang), Tan Son Nhat (in Hochiminh city) International Airports, Phnompenh and Siemreap (Cambodia), Vientiane and Luangprabang (Laos) Yangon (Myanmar)

Our prices remain consistent, there are no hidden costs and our customers rely on guaranteed quality service.

By using our online booking service, you can be assured that our drivers will be there to greet you at the Arrivals or Pick-up address on time. Advanced 24 hours booking reservations are required if you wish to use our online booking service.

To take advantage of our excellence in taxi service and for any special arrangements, we recommend you phone or email us 24 hours before your arrival/departure.

Our Transportation Services include:

+ Airport Transfers : Hanoi, Hai phong, Dong Hoi, Hue, Danang, Nha Trang, Dalat, Hochiminh, Can Tho, Phu Quoc
+ Seaport Transfers: Hai Phong, Cai lan (Halong), Tien sa (danang), Chan may (Hue), Vung Tau, Saigon
+ Long journeys departing from: Hanoi, Hue, Hoi an, Nha Trang, Hochiminh, Can Tho
+ Long journeys cross border (Vietnam-Indochina): Vietnam- Laos ( from Hanoi to Vientinae or Luangprabang), Vietnam-Cambodia (from Ho Chi Minh city to Phnompenh or Siemreap)

Day Bookings also available! You can book a car/ Bus for a whole day or for a few hours for which the service will be charged at an hourly basis.
-Airport transfer Inclusion of:
Road, bridge tolls, parking fees of day time( not night time), gasoline, car insurance and professional, licensed driver ( at least 4years of driving experience).


- Airport transfer Exclusion of:
Overnight parking fee (outside the cities of Hanoi and Ho Chi Minh).
And all other not mentioned in the routings


Car conditions:
All moderns (made in 2019-2020-2021-2022) with air-conditioning, seat-belts and all are new cars

Type of Car:
Ford , Mecerdes, Honda, Toyota, BMW, Huyndai

+ 4 Seats car for 3 passengers + 2 midsize suicases
+ 7 Seats SUV car for max 5 passengers + 3 midsize suicases
+ 7 Seats DCar Deluxe Limousine Van for max 6 passengers + 6 midsize suicases
+ 9 Seats SoLaTi Deluxe Limousine Van for max 8 passengers + 8midsize suicases
+ 16 Seats van for max 10 passengers + 6 midsize suicases (keep all back seats for your suicaces)
+ 18 Seats Business Class Limousine Mini-Bus for max 18 passengers + 18midsize suicases
+ 29 Seats Mini-Bus for Max 14 passengers + 14 midsize suicases (keep all back seats for your suicaces)
+ 34 Seats Bus for Max 26 passengers + 26 midsize suicases (keep some back seats for your suicaces and some in the trunk under your seats)
+ 45 Seats Bus for Max 40 passengers + 20 midsize suicases (Your suicaces will be stored in the trunk under your seats) or 30 Passengers with 40 midsize suicases (keep some back seats for your suicaces and some in the trunk under your seats)

-->>For quick questions or booking, please contact Whatsapp: (084) 913323977 (Mr Pham)


View our car, van, bus for hire in Vietnam-Laos-Cambodia-Myanmar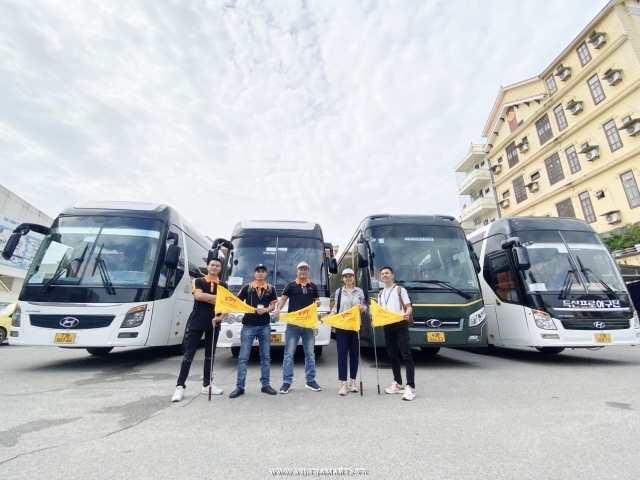 45seaters coachs of VietnamPathfinder (VPT)
45seaters coachs of VietnamPathfinder (VPT)


45 Seats Coach



45seats coach


30 seats mini-bus - Country 2017


29 seats - Mini-bus (Country)


35seats Bus -Thaco
45 seats Coach




Cabin of 45 seats coach


Interior of 45 seaters coach

30 seaters -Thaco -2017



Interior -30 seaters -Thaco -2017


Cabin of 30 seats mini-bus


29 Seaters - Universe 2022


Interior - 29 Seaters - Universe 2022


4seats private car
7 Seats Car Innova -2022
Sedona Van -7 seats
Sedona Van -7 seats
16seats Van


Interior - 16seats Van
16 Seats Mini-Van
Limousine - Van - Dcar Rental in Vietnam



Solati -9 Seaters -Van

Limousine Business Class - 18seaters
Interior - Limousine Business Class - 18seaters


Limousine - Van - Dcar Rental in Vietnam - Interior 7seaters


Luxury Car - Mercedes E-300 - Vietnam Car Rental


Mercedes E-300
Mercedes E-400 for business rental in Hanoi- Danang- Nha Trang- HCM city


For any urgent booking, please call direct to our support number/ Whatsapp: (084) 913323 977
Vietnampathfinder commitment is the delivery of bespoke, safe and best services
With a focus on experience, guest safety, quality control and service delivery, we will check every details to make sure that our travel sevices or your booking travel with us a most enjoyable. Each request is dutifully responded to within 24 hours unless negotiations and special requests are required on your behalf; our team of Vietnampathfinder will ultimately inform and follow up or you also can call us any time at 084. 913323 977 (Mr Pham).

Payment
100% of the total car rental costs to be paid upon commitment of the car rental.

We do accept payment methods:
+ Credit card = 2.7% bank fees is levied in addition to the invoiced amount. Kindly make sure you include the invoice number or contact our Accounting Department for an invoice number so that your payment can be identified. Please also check with the bank who issued your credit card to ensure that no other bank fee is applied.
+ Paypayl online = 4.7%, fast but high fees
+Cash on arrival: we accept in some cases with 50% deposit by paypal or credit card online and the balance of 50% by cash on arrival Vietnam (collect by tour guides, drivers directly from tour leader or your clients).

+ Bank transfer = 25$/ 1 time bank fees/ whole amount (takes 3 days to complete and easy, this is low bank fees for big amount)

Responsibilities:
+ To ensure our cars are not being used for any for any illegal or immoral purpose
+ Our cars and drivers will refuse to carry passengers who not in the booking list (Names) or Number of People in the party at booking confirmation.
+ Pick up location changes must to inform us at 12 hours before departure and will be applied the surcharge if over 3 km from the original booking
+ For airport pick up, if the flight will delay for over 1hour, we will apply the surcharge for 50% and over 2 hours will charge 100% (as a new booking car)
+ Incorrect information such as arrival flight numbers, gate number, dock number, hotel names, passenger names, border gate names, arrival visa trouble will be considered as the services done and renew ones will be full charged
+ We will not agree if you take the wheel as a part of safety reasons, our drivers are licensed to do this job.
+ Our drivers can refuse to drive you to the sites that out of our booked schedules/ itineraries, surcharge will be applied upon request

Cancellations & Refunds
Any cancellations should be made in writing to VietnamPathfinder Travel (email at: info@vietnampathfinder.com ). Cancellations beyond your control subject to Force Majeure can be covered under travel insurance. We recommend you buy Travel insurance before you complete payment of your travel and review its relevant product disclosure statement. Cancellation fees of loss of deposit will be applied if a confirmed booking is cancelled 22 days or more prior to arrival date

For bookings that are cancelled by the passenger or agent 21 - 15 days prior to arrival date, loss of 50% of the total car rental cost will be applied.

For bookings that are cancelled by the passenger or agent 14 - 8 days prior to arrival date, loss of 75% of the total car rental cost will be applied.

Vietnampathfinder reserves the right to claim 100% of the total car rental cost should the cancellation happen within 7 days before departure.


We reserve the right to modify these cancellations & refunds policies without prior notice.

Last Minutes Booking Policies
Last minutes bookings if the bookings are made in 72 hours, 48 hours or 24 hours before departure

Less than 24 hours before your trip departure, please email us at: info@vietnampathfinder.com or Call at 084 913323977 and only process the final booking on our website when get confirmation emails from our sale teams.

Refund and amendment will not be applied for last minute bookings.

Special surcharge during Vietnam Tet Lunar New Year:
We will request a special surcharge during 3days of Vietnam Tet Lunar New Year, this surcharge is added further 20%/ each day (during 3days of Tet Holiday period) and will inform you before process the booking our car

Hope you would like the information!
Should you have any question, please don't hesitate to write us, we are here to help!
With appreciation for your:

+ Your email will be invisible
+ We will respond to your email or on this page