Trip code: C-335
Routing: Can Tho airport- Can Tho City (1Way)
Type of car: Altis, Camry, Vios, Civic, Mazda (4 Seats)
Number of seats: Car 4 seats
Validity: 2023-12-31
Price: 60.5 $
We accept payment via:
|
We provide private 4seats car (suggest for 3passengers + luggage) to transfer from Can Tho (airport) to Can Tho City in Down town (not other district upon request).

Hire car included: Local driver, Gas, Road tolls, Parking fees
Hire car excluded: Travel insurance, hotel rooms, meals, water, personnel expenses..

Note:

We also provide private car for rental for some local schedules :

+ Private car/ van rental HCM - Can Tho (or Opposite way)
+ Private car/ van rental Can Tho - Chau Doc (Mekong delta)
+ Private car/ van rental Can Tho - Kien Giang
+ Private car/ van rental Can Tho Sightseeing city, country-side
+ Private car/ van rental Can Tho - Vinh Long
or any private car/ van rental in Can Tho city of Mekong delta, from 1-2-3 days or longer trip,

+ We also provide local licensed English/ French speaking tour guides for escort from daily trips to cross provinces trips, guide fees from 40- 60 USD/ working day
+ We also provide private van/ bus rental for bigger groups, such as 16 seats (van), luxury limousine vans (9-11seats), bus (29-35-45 seats) for traveling from/to Can Tho city
+ Please click to view or consider to book for a package with all included : Can Tho Packge Tour 5days 4nights (included: Can Tho Mekong delta - HCM city)


Please contact us further information at Email: info@vietnampathfinder.com


Can tho city- Mekong delta Vietnam
Can Tho airport - the Biggest airport in Mekong delta provinces




Can Tho Bridge




Cai rang floating Market -Can tho


Local Houses along Mekong river in Can tho


Local floating restaurant in Cai Rang Market

Highlights in Can tho
My Khanh tourist village is located at 335 Lo Vong Cung Street, Phong Dien District, about five kilometers from Can Tho City by road or river.
My Khanh village, which was established in 1996, features a garden-style eco-tourist site. The village is a special one in Can Tho which brings about comfort and relaxation for any visitor.
At the village, visitors can experience the old days of southerners' life by taking on the costume of a rich landlord who lived in a big house or of a normal traditional farmer to feel the difference. As a rich landlord, you can enjoy fruit, hot tea and listen to music from a hand-operated gramophone made more than 300 years ago. As a farmer, you are given opportunity to work and prepare meals as southern farmers did in the past.
Another feature that makes My Khanh tourist village special is the 100-year-old southern house that was moved piece by piece from Can Tho's Binh Thuy Ward and reassembled.
At the village, you are served with Mekong Delta specialties such as baby rabbits, snakes, tortoises, bats, cuckoos and crocodiles, etc. The meals include regional fruits such as rambutans, durians, langsats, mangosteens, oranges, tangerines and pomeloes.
My Khanh tourist village also provides accommodation features Central Highlands-style stilt houses with total 300 well-furnished rooms in all. Besides, there are other entertainment services including a swimming pool, fishing and boating on the river.

Can Tho, Mekong delta in Cantho Car Hire
What to Eat in Can Tho ?
1. Banh xeo (Vietnamese Pancake)
Banh xeo is the popular food street in Can Tho which can be found everywhere, from the street stalls or luxurious restaurants. The word xeo depicts the sizzling sound when pouring the rice batter into the hot skillet.
The cake has a yellow outer layer containing boiled pork strips, shrimp, bean sprouts and spring onion. To enjoy it, firstly, cut the cakes into small pieces, then take a piece of it and roll tightly into a rice paper with served vegetables, dip the roll into the sauce and taste it. To have the best taste, it is highly recommended to use your hands, not the chopsticks.
2. Chuoi Nep Nuong (Baked Sticky Rice Banana Bun)
In Can Tho, the banana buns are small and sweet, which is the ideal choice for a snack or dessert. Bananas are covered in a layer of glutinous sticky rice which has been cooked in coconut milk. A banana leaf is wrapped around the center of the banana and rice package and then it is placed to grill.
3. Grilled Green Pepper Snails
Steam the snails and grill them on the charcoal. The dish will be more delicious when it is served with the suitable sauce consisting of fish sauce, pepper, and garlic.
4. Vietnamese Noodles in Coconut Cream (Banh tam bi)
This food is a southern Vietnamese dish of thick rice and tapioca noodles, tossed with herbs and pork and drenched in thick coconut cream dressing. You will not be able to try this food taste anywhere else as it is unique and special.
5. Salt Fried Rock Crab
By motorbike, drive in 10 minutes to Dinh Tien Hoang Street near Hung Vuong Bus Station to have a chance to try the best rock crab ever.
The rock crab's size is as big as an expanding adult hand with purple shells and pincers and its shape is like the paddy field crab. Calling rock is due to the fact that the crab usually lives in rocky area, reef of the island or the rock cliff of the South coast. Their meat is white, soft and sweet, which is perfect for the salt-n-pepper lemon mix.
Boat Rental services in Can Tho:

+ Private boat for Cai Rang floating market = 30-35 USD/ private boat (for 3 hours)
+ Private van rental for sightseeing 1day = 95 USD/ private 16 seats van
+ Hire an English speaking guide for city sightseeing = 45 USD/ 8 hours working

Can Tho City Map
Vietnampathfinder Car Rental Services - 17 years' experience.
We are a private and professional car rental company, head office based in Hanoi city capital of Vietnam, we have been providing car/ van rental services in Vietnam for over 17 years now, with large choice of private car/van/bus for working, business trip, family travel, also group tours for tourist, student groups...
Our private cars and coachs are all new, from standard to Luxury vehicles, limousine vans.
Our professional car rental services 24 hours a day, 7 days a week to and from all major Vietnam airports such as Noi Bai (in Hanoi), Danang (in Danang), Tan Son Nhat (in Hochiminh city) International Airports, Phnompenh and Siemreap (Cambodia), Vientiane and Luangprabang (Laos) Yangon (Myanmar)

Our prices remain consistent, there are no hidden costs and our customers rely on guaranteed quality service.

By using our online booking service, you can be assured that our drivers will be there to greet you at the Arrivals or Pick-up address on time. Advanced 24 hours booking reservations are required if you wish to use our online booking service.

To take advantage of our excellence in taxi service and for any special arrangements, we recommend you phone or email us 24 hours before your arrival/departure.

Our Transportation Services include:

+ Airport Transfers : Hanoi, Hai phong, Dong Hoi, Hue, Danang, Nha Trang, Dalat, Hochiminh, Can Tho, Phu Quoc
+ Seaport Transfers: Hai Phong, Cai lan (Halong), Tien sa (danang), Chan may (Hue), Vung Tau, Saigon
+ Long journeys departing from: Hanoi, Hue, Hoi an, Nha Trang, Hochiminh, Can Tho
+ Long journeys cross border (Vietnam-Indochina): Vietnam- Laos ( from Hanoi to Vientinae or Luangprabang), Vietnam-Cambodia (from Ho Chi Minh city to Phnompenh or Siemreap)

Day Bookings also available! You can book a car/ Bus for a whole day or for a few hours for which the service will be charged at an hourly basis.
-Airport transfer Inclusion of:
Road, bridge tolls, parking fees of day time( not night time), gasoline, car insurance and professional, licensed driver ( at least 4years of driving experience).


- Airport transfer Exclusion of:
Overnight parking fee (outside the cities of Hanoi and Ho Chi Minh).
And all other not mentioned in the routings


Car conditions:
All moderns (made in 2019-2020-2021-2022) with air-conditioning, seat-belts and all are new cars

Type of Car:
Ford , Mecerdes, Honda, Toyota, BMW, Huyndai

+ 4 Seats car for 3 passengers + 2 midsize suicases
+ 7 Seats SUV car for max 5 passengers + 3 midsize suicases
+ 7 Seats DCar Deluxe Limousine Van for max 6 passengers + 6 midsize suicases
+ 9 Seats SoLaTi Deluxe Limousine Van for max 8 passengers + 8midsize suicases
+ 16 Seats van for max 10 passengers + 6 midsize suicases (keep all back seats for your suicaces)
+ 18 Seats Business Class Limousine Mini-Bus for max 18 passengers + 18midsize suicases
+ 29 Seats Mini-Bus for Max 14 passengers + 14 midsize suicases (keep all back seats for your suicaces)
+ 34 Seats Bus for Max 26 passengers + 26 midsize suicases (keep some back seats for your suicaces and some in the trunk under your seats)
+ 45 Seats Bus for Max 40 passengers + 20 midsize suicases (Your suicaces will be stored in the trunk under your seats) or 30 Passengers with 40 midsize suicases (keep some back seats for your suicaces and some in the trunk under your seats)

-->>For quick questions or booking, please contact Whatsapp: (084) 913323977 (Mr Pham)


View our car, van, bus for hire in Vietnam-Laos-Cambodia-Myanmar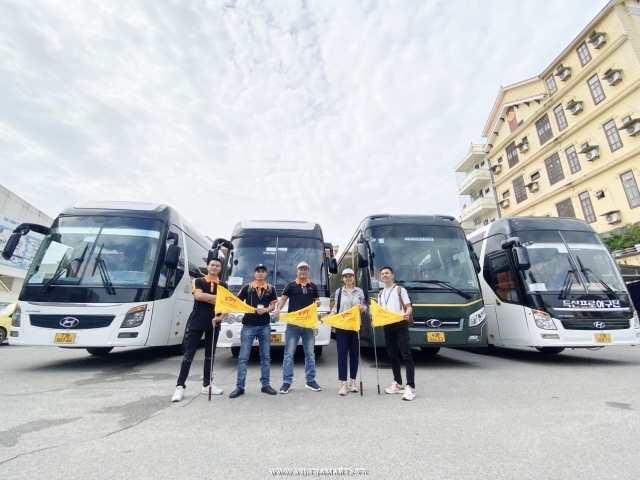 45seaters coachs of VietnamPathfinder (VPT)
45seaters coachs of VietnamPathfinder (VPT)


45 Seats Coach



45seats coach


30 seats mini-bus - Country 2017


29 seats - Mini-bus (Country)


35seats Bus -Thaco
45 seats Coach




Cabin of 45 seats coach


Interior of 45 seaters coach

30 seaters -Thaco -2017



Interior -30 seaters -Thaco -2017


Cabin of 30 seats mini-bus


29 Seaters - Universe 2022


Interior - 29 Seaters - Universe 2022


4seats private car
7 Seats Car Innova -2022
Sedona Van -7 seats
Sedona Van -7 seats
16seats Van


Interior - 16seats Van
16 Seats Mini-Van
Limousine - Van - Dcar Rental in Vietnam



Solati -9 Seaters -Van

Limousine Business Class - 18seaters
Interior - Limousine Business Class - 18seaters


Limousine - Van - Dcar Rental in Vietnam - Interior 7seaters


Luxury Car - Mercedes E-300 - Vietnam Car Rental


Mercedes E-300
Mercedes E-400 for business rental in Hanoi- Danang- Nha Trang- HCM city


For any urgent booking, please call direct to our support number/ Whatsapp: (084) 913323 977
Vietnampathfinder commitment is the delivery of bespoke, safe and best services
With a focus on experience, guest safety, quality control and service delivery, we will check every details to make sure that our travel sevices or your booking travel with us a most enjoyable. Each request is dutifully responded to within 24 hours unless negotiations and special requests are required on your behalf; our team of Vietnampathfinder will ultimately inform and follow up or you also can call us any time at 084. 913323 977 (Mr Pham).

Payment
100% of the total car rental costs to be paid upon commitment of the car rental.

We do accept payment methods:
+ Credit card = 2.7% bank fees is levied in addition to the invoiced amount. Kindly make sure you include the invoice number or contact our Accounting Department for an invoice number so that your payment can be identified. Please also check with the bank who issued your credit card to ensure that no other bank fee is applied.
+ Paypayl online = 4.7%, fast but high fees
+Cash on arrival: we accept in some cases with 50% deposit by paypal or credit card online and the balance of 50% by cash on arrival Vietnam (collect by tour guides, drivers directly from tour leader or your clients).

+ Bank transfer = 25$/ 1 time bank fees/ whole amount (takes 3 days to complete and easy, this is low bank fees for big amount)

Responsibilities:
+ To ensure our cars are not being used for any for any illegal or immoral purpose
+ Our cars and drivers will refuse to carry passengers who not in the booking list (Names) or Number of People in the party at booking confirmation.
+ Pick up location changes must to inform us at 12 hours before departure and will be applied the surcharge if over 3 km from the original booking
+ For airport pick up, if the flight will delay for over 1hour, we will apply the surcharge for 50% and over 2 hours will charge 100% (as a new booking car)
+ Incorrect information such as arrival flight numbers, gate number, dock number, hotel names, passenger names, border gate names, arrival visa trouble will be considered as the services done and renew ones will be full charged
+ We will not agree if you take the wheel as a part of safety reasons, our drivers are licensed to do this job.
+ Our drivers can refuse to drive you to the sites that out of our booked schedules/ itineraries, surcharge will be applied upon request

Cancellations & Refunds
Any cancellations should be made in writing to VietnamPathfinder Travel (email at: info@vietnampathfinder.com ). Cancellations beyond your control subject to Force Majeure can be covered under travel insurance. We recommend you buy Travel insurance before you complete payment of your travel and review its relevant product disclosure statement. Cancellation fees of loss of deposit will be applied if a confirmed booking is cancelled 22 days or more prior to arrival date

For bookings that are cancelled by the passenger or agent 21 - 15 days prior to arrival date, loss of 50% of the total car rental cost will be applied.

For bookings that are cancelled by the passenger or agent 14 - 8 days prior to arrival date, loss of 75% of the total car rental cost will be applied.

Vietnampathfinder reserves the right to claim 100% of the total car rental cost should the cancellation happen within 7 days before departure.


We reserve the right to modify these cancellations & refunds policies without prior notice.

Last Minutes Booking Policies
Last minutes bookings if the bookings are made in 72 hours, 48 hours or 24 hours before departure

Less than 24 hours before your trip departure, please email us at: info@vietnampathfinder.com or Call at 084 913323977 and only process the final booking on our website when get confirmation emails from our sale teams.

Refund and amendment will not be applied for last minute bookings.

Special surcharge during Vietnam Tet Lunar New Year:
We will request a special surcharge during 3days of Vietnam Tet Lunar New Year, this surcharge is added further 20%/ each day (during 3days of Tet Holiday period) and will inform you before process the booking our car

Hope you would like the information!
Should you have any question, please don't hesitate to write us, we are here to help!
With appreciation for your:

+ Your email will be invisible
+ We will respond to your email or on this page