Trip code: C-337
Routing: Saigon-Cuchi-Tayninh 1day
Type of car: Altis, Camry, Vios, Civic, Mazda (4 Seats)
Number of seats: Car 4 seats
Validity: 2023-12-31
Price: 181.5 $
We accept payment via:
|
We provide private car to transfer from Saigon-Hochiminh city (airport/ city) to the former battle site of Cu Chi tunnels, a south vietnam former battle field, Cu chi tunnles is just 70 km away from Saigon on the way to Cambodia border, all other sightseeing Saigon.
Car hire included of : Driver, Gas, Road tolls, Parking fees
Find Hotels in Saigon

Please contact us further information at Email: info@vietnampathfinder.com
Saigon Highlights:
Cu Chi Tunnels consist of more than 200km of underground tunnels. This main axis system has many branches connecting to underground hideouts, shelters, and entrances to other tunnels.
Cu Chi District is known nationwide as the base where the Vietnamese mounted their operations of the Tet Offensive in 1968. The tunnels are between 0.5 to 1m wide, just enough space for a person to walk along by bending or dragging. However, parts of the tunnels have been modified to accommodate visitors. The upper soil layer is between 3 to 4m thick and can support the weight of a 50-ton tank and the damage of light cannons and bombs. The underground network provided sleeping quarters, meeting rooms, hospitals, and other social rooms. Visiting the Cu Chi Tunnels provides a better understanding of the prolonged resistance war of the Vietnamese people and also of the persistent and clever character of the Vietnamese nation.
For a place that's physically invisible, the Cu Chi Tunnels have sure carved themselves a celebrated niche in the history of guerilla warfare. Its celebrated and unseen geography straddles – all of it underground – something which the Americans eventually found as much to their embarrassment as to their detriment. They were dug, before the American War, in the late 1940s, as a peasant-army response to a more mobile and ruthless French occupation. The plan was simple: take the resistance briefly to the enemy and then, literally, vanish.
First the French, then the Americans were baffled as to where they melted to, presuming, that it was somewhere under cover of the night in the Cuu Long (Mekong) Delta. But the answer lay in the sprawling city under their feet – miles and miles of tunnels. In the gap between French occupation and the arrival of the Americans the tunnels fell largely into disrepair, but the area's thick natural earth kept them intact and maintained by nature. In turn it became not just a place of hasty retreat or of refuge, but, in the words of one military historian, "an underground land of steel, home to the depth of hatred and the incommutability of the people." It became, against the Americans and under their noses, a resistance base and the headquarters of the southern Vietnam Liberation Forces. The linked threat from the Viet Cong - the armed forces of the National Liberation Front of South Vietnam - against the southern city forced the unwitting Americans to select Cu Chi as the best site for a massive supply base – smack on top of the then 25-year old tunnel network. Even sporadic and American's grudgingly had to later admit, daring attacks on the new base, failed for months to indicate where the attackers were coming from – and, importantly, where they were retreating to. It was only when captives and defectors talked that it became slightly more clear. But still the entries, exits, and even the sheer scale of the tunnels weren't even guessed at. Chemicals, smoke-outs, razing by fire, and bulldozing of whole areas, pinpointed only a few of the well-hidden tunnels and their entrances. The emergence of the Tunnel Rats, a detachment of southern Vietnamese working with Americans small enough to fit in the tunnels, could only guess at the sheer scale of Cu Chi. By the time peace had come, little of the complex, and its infrastructure of schools, dormitories, hospitals, and miles of tunnels, had been uncovered. Now, in peace, only some of it is uncovered – as a much-visited part of the southern tourist trail. Many of the tunnels are expanded replicas, to avoid any claustrophobia they would induce in tourists. The wells that provided the vital drinking water are still active, producing clear and clean water to the three-tiered system of tunnels that sustained life. A detailed map is almost impossible, for security reasons if nothing else: an innate sense of direction guided the tuneless and those who lived in them.
Some routes linked to local rivers, including the Saigon River, their top soil firm enough to take construction and the movement of heavy machinery by American tanks, the middle tier from mortar attacks, and the lower, 8-10m down was impregnable. A series of hidden, and booby-trapped, doors connected the routes, down through a system of narrow, often unlit and invented tunnels. At one point American troops brought in a well-trained squad of 3000 sniffer dogs, but the German Shepherds were too bulky to navigate the courses. One legend has it that the dogs were deterred by Vietnamese using American soap to throw them off their scent, but more usually pepper and chilly spray was laid at entrances, often hidden in mounds disguised as molehills, to throw them off. But the Americans were never passive about the tunnels, despite being unaware of their sheer complexity. Large-scale raiding operations used tanks, artillery and air raids, water was pumped through known tunnels, and engineers laid toxic gas. But one American commander's report at the time said: "It's impossible to destroy the tunnels because they are too deep and extremely tortuous."
Today the halls that showed propagandas films, housed educational meetings and schooled Vietnamese in warfare are largely intact. So too are the kitchens where visitors can dine on steamed manioc, pressed rice with sesame and salt, a popular meal during the war, as they are assailed with true stories of how life went on as near-normal, much of the time. Ancestors were worshipped there, teaching was well-timetabled, poultry was raised – and even couples trusted, fell in love, were wed, and honeymooned there. But visitors have it easier: those re-constructed tunnels give the flavor of the tunnels but not the claustrophobia and the sacrifice of the estimated 18,000 who served their silent and unseen war there with only around one-third surviving, the rest casualties of American assaults, snakes, rats and insects.
Now the unseen and undeclared No Man's Land is undergoing a revival, saluted as a Relic of National History and Culture with its Halls of Tradition displaying pictures and exhibits. The nearby Ben Duoc-Cu Chi War Memorial, where the reproduced tunnels have been built, stands as an-above ground salute to a hidden war.
Please click " Cu Chi tunnels tours" to see more pictures of Cu Chi Tunnels - Vietnam
Cu Chi-Sai Gon map
Vietnampathfinder Car Rental Services - 17 years' experience.
We are a private and professional car rental company, head office based in Hanoi city capital of Vietnam, we have been providing car/ van rental services in Vietnam for over 17 years now, with large choice of private car/van/bus for working, business trip, family travel, also group tours for tourist, student groups...
Our private cars and coachs are all new, from standard to Luxury vehicles, limousine vans.
Our professional car rental services 24 hours a day, 7 days a week to and from all major Vietnam airports such as Noi Bai (in Hanoi), Danang (in Danang), Tan Son Nhat (in Hochiminh city) International Airports, Phnompenh and Siemreap (Cambodia), Vientiane and Luangprabang (Laos) Yangon (Myanmar)

Our prices remain consistent, there are no hidden costs and our customers rely on guaranteed quality service.

By using our online booking service, you can be assured that our drivers will be there to greet you at the Arrivals or Pick-up address on time. Advanced 24 hours booking reservations are required if you wish to use our online booking service.

To take advantage of our excellence in taxi service and for any special arrangements, we recommend you phone or email us 24 hours before your arrival/departure.

Our Transportation Services include:

+ Airport Transfers : Hanoi, Hai phong, Dong Hoi, Hue, Danang, Nha Trang, Dalat, Hochiminh, Can Tho, Phu Quoc
+ Seaport Transfers: Hai Phong, Cai lan (Halong), Tien sa (danang), Chan may (Hue), Vung Tau, Saigon
+ Long journeys departing from: Hanoi, Hue, Hoi an, Nha Trang, Hochiminh, Can Tho
+ Long journeys cross border (Vietnam-Indochina): Vietnam- Laos ( from Hanoi to Vientinae or Luangprabang), Vietnam-Cambodia (from Ho Chi Minh city to Phnompenh or Siemreap)

Day Bookings also available! You can book a car/ Bus for a whole day or for a few hours for which the service will be charged at an hourly basis.
-Airport transfer Inclusion of:
Road, bridge tolls, parking fees of day time( not night time), gasoline, car insurance and professional, licensed driver ( at least 4years of driving experience).


- Airport transfer Exclusion of:
Overnight parking fee (outside the cities of Hanoi and Ho Chi Minh).
And all other not mentioned in the routings


Car conditions:
All moderns (made in 2019-2020-2021-2022) with air-conditioning, seat-belts and all are new cars

Type of Car:
Ford , Mecerdes, Honda, Toyota, BMW, Huyndai

+ 4 Seats car for 3 passengers + 2 midsize suicases
+ 7 Seats SUV car for max 5 passengers + 3 midsize suicases
+ 6 & 9 Seats DCar Deluxe Limousine Van for max 6 passengers + 6 midsize suicases
+ 11 & 16 Seats SoLaTi Deluxe Limousine Van for max 8 passengers + 8midsize suicases
+ 16 Seats Ford Van for max 10 passengers + 6 midsize suicases (keep all back seats for your suicaces)
+ 13 & 18 Seats (Fuso) Business Class Limousine Mini-Bus for max 10 or 18 passengers + midsize suicases
+ 29 & 30 Seats Mini-Bus for Max 14 passengers + 14 midsize suicases (keep all back seats for your suicaces)
+ 34 Seats Bus for Max 26 passengers + 26 midsize suicases (keep some back seats for your suicaces and some in the trunk under your seats)
+ 45 Seats Bus for Max 40 passengers + 20 midsize suicases (Your suicaces will be stored in the trunk under your seats) or 30 Passengers with 40 midsize suicases (keep some back seats for your suicaces and some in the trunk under your seats)

-->>For quick questions or booking, please contact Whatsapp: (084) 913323977 (Mr Pham)


View our car, van, bus for hire in Vietnam-Laos-Cambodia-Myanmar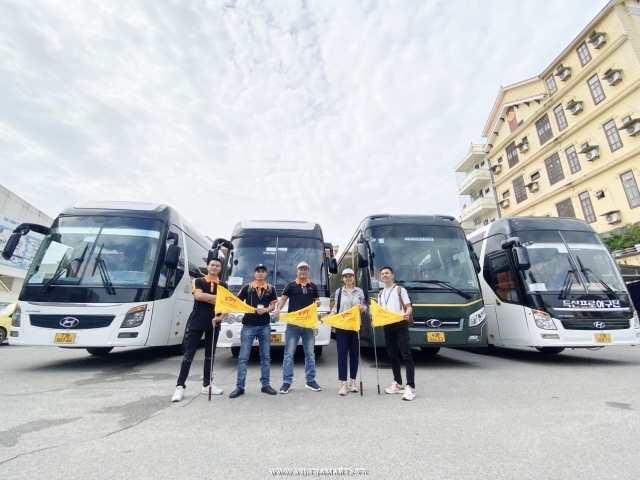 45seaters coachs of VietnamPathfinder (VPT)
45seaters coachs of VietnamPathfinder (VPT)


45 Seats Coach



45seats coach for rental with VietnamPathfinder
45 seats bus rental with Vietnam Pathfinder Travel


Interior - 45 seats bus rental with Vietnam Pathfinder Travel


30 seats mini-bus - Country 2017


29 seats - Mini-bus (Country)


35seats Bus -Thaco
45 seats Coach




Cabin of 45 seats coach


Interior of 45 seaters coach

30 seaters -Thaco -2017



Interior -30 seaters -Thaco -2017


Cabin of 30 seats mini-bus


29 Seaters - Universe 2022


Interior - 29 Seaters - Universe 2022


4seats private car
7 Seats Car Innova -2022
Sedona Van -7 seats
Sedona Van -7 seats
16seats Van - Ford (USA Made)


Interior - 16seats Van (Ford -US Made)
This van is an idea van for party of 12-13 people travel together for sightseeing tour
or 9-10 people with luggages



Interior - 16seats Van (Ford -US Made)


16 seats van - Ford (USA Made)
16 Seats Mini-Van (Ford -USD Made)
Limousine - Van - Dcar Rental in Vietnam - 6-9seats



Solati -16 Seaters - Limousine Van
Solati -16 Seaters - Limousine Van




Interior -Solati -15&16 Seaters - Limousine Van (More comfortable than a 16 seats Ford Van)
Solati van is an idea van for group of 12-13 people travel together for sightseeing tour.
Or 8-9 people with luggage only



Limousine Business Class - 18seaters
This luxury limousine mini-bus is a great idea for a party from 15-17 people travel together for sightseeing city.
Interior - Limousine Business Class - 18seaters

Fuso Limousine van - 13 seats (for party of 10 people travel together for sightseeing tour)



Fuso Limousine van - 13 seats



Interior- Fuso Limousine van - 13 seats
(this luxury van is an idea van for group from 10-11 people travel together)
or 7 people with luggages


Interior - Fuso Limousine van - 13 seats



Limousine - Van - Dcar Rental in Vietnam - Interior 7seaters


Luxury Car - Mercedes E-300 - Vietnam Car Rental


Mercedes E-300
Mercedes E-400 for business rental in Hanoi- Danang- Nha Trang- HCM city


For any urgent booking, please call direct to our support number/ Whatsapp: (084) 913323 977
Vietnampathfinder commitment is the delivery of bespoke, safe and best services
With a focus on experience, guest safety, quality control and service delivery, we will check every details to make sure that our travel sevices or your booking travel with us a most enjoyable. Each request is dutifully responded to within 24 hours unless negotiations and special requests are required on your behalf; our team of Vietnampathfinder will ultimately inform and follow up or you also can call us any time at 084. 913323 977 (Mr Pham).

Payment
100% of the total car rental costs to be paid upon commitment of the car rental.

We do accept payment methods:
+ Credit card = 2.7% bank fees is levied in addition to the invoiced amount. Kindly make sure you include the invoice number or contact our Accounting Department for an invoice number so that your payment can be identified. Please also check with the bank who issued your credit card to ensure that no other bank fee is applied.
+ Paypayl online = 4.7%, fast but high fees
+Cash on arrival: we accept in some cases with 50% deposit by paypal or credit card online and the balance of 50% by cash on arrival Vietnam (collect by tour guides, drivers directly from tour leader or your clients).

+ Bank transfer = 25$/ 1 time bank fees/ whole amount (takes 3 days to complete and easy, this is low bank fees for big amount)

Responsibilities:
+ To ensure our cars are not being used for any for any illegal or immoral purpose
+ Our cars and drivers will refuse to carry passengers who not in the booking list (Names) or Number of People in the party at booking confirmation.
+ Pick up location changes must to inform us at 12 hours before departure and will be applied the surcharge if over 3 km from the original booking
+ For airport pick up, if the flight will delay for over 1hour, we will apply the surcharge for 50% and over 2 hours will charge 100% (as a new booking car)
+ Incorrect information such as arrival flight numbers, gate number, dock number, hotel names, passenger names, border gate names, arrival visa trouble will be considered as the services done and renew ones will be full charged
+ We will not agree if you take the wheel as a part of safety reasons, our drivers are licensed to do this job.
+ Our drivers can refuse to drive you to the sites that out of our booked schedules/ itineraries, surcharge will be applied upon request

Cancellations & Refunds
Any cancellations should be made in writing to VietnamPathfinder Travel (email at: info@vietnampathfinder.com ). Cancellations beyond your control subject to Force Majeure can be covered under travel insurance. We recommend you buy Travel insurance before you complete payment of your travel and review its relevant product disclosure statement. Cancellation fees of loss of deposit will be applied if a confirmed booking is cancelled 22 days or more prior to arrival date

For bookings that are cancelled by the passenger or agent 21 - 15 days prior to arrival date, loss of 50% of the total car rental cost will be applied.

For bookings that are cancelled by the passenger or agent 14 - 8 days prior to arrival date, loss of 75% of the total car rental cost will be applied.

Vietnampathfinder reserves the right to claim 100% of the total car rental cost should the cancellation happen within 7 days before departure.


We reserve the right to modify these cancellations & refunds policies without prior notice.

Last Minutes Booking Policies
Last minutes bookings if the bookings are made in 72 hours, 48 hours or 24 hours before departure

Less than 24 hours before your trip departure, please email us at: info@vietnampathfinder.com or Call at 084 913323977 and only process the final booking on our website when get confirmation emails from our sale teams.

Refund and amendment will not be applied for last minute bookings.

Special surcharge during Vietnam Tet Lunar New Year:
We will request a special surcharge during 3days of Vietnam Tet Lunar New Year, this surcharge is added further 20%/ each day (during 3days of Tet Holiday period) and will inform you before process the booking our car

Hope you would like the information!
Should you have any question, please don't hesitate to write us, we are here to help!
With appreciation for your:

+ Your email will be invisible
+ We will respond to your email or on this page