Trip code: C-342
Routing: Danang- Hue / one way
Type of car: Altis, Camry, Vios, Civic, Mazda (4 Seats)
Number of seats: Car 4 seats
Validity: 2023-12-31
Price: 187.6 $
We accept payment via:
|
We provide private 4 seats car (suggest for 2-3 passengers and small luggage) to transfer from Danang (airport/ city) to Hue city (not outskirt) or opposite way, It takes some 2 and 1/2 hours for driving/ one way and distance is 125km.


Driving schedules:
Pick up at your hotel in Danang or Hoin and heading for Hue, stop along the way for relax, on arrival Hue, transfer to your hotel and end services


Car hire included: driver, gas, road tolls, parking fees

Please contact us further information at Email: info@vietnampathfinder.com
Find hotel in Hoian


Danang Highlights:


1: The Marble Mountains
Ngu Hanh Son (The Marble Mountains) is about 8km southeast of Da Nang City. This is a cluster of five marble mountains lying close to the sea. That is why, it is dubbed Hon Non Nuoc, which means Mountain and Water in Vietnamese.
In the early 19th century, King Gia Long, the founder of the Nguyen Dynasty, passed by and named the five mountains as Ngu Hanh Son. He also named each of them according to one of the five elements of the universe: Kim Son (metal of gold), Moc Son (wood), Thuy Son (water), Hoa Son (fire), and Tho Son (earth). According to Oriental philosophy, metal, wood, water, fire and earth are five elements that create the universe. Five is a very important number in oriental mentality and life. And so, the five mountains that compose Marble Mountain are filled with mysterious.
Thuy Son is both the highest and the most beautiful. Marble mountains are associated with different legends. Thuy Son, covering an area of 15ha, has three peaks namely Thuong Thai, Trung Thai and Ha Thai. As a result, the pagoda built on the mountain was named Tam Thai. Thuy Son has been exploited as a popular tourist resort because of its alluring beauty. Stone steps carved into the mountain lead to Tam Thai Pagoda where Phat Di Lac is worshipped. In the past, the pagoda paid tribute to Hindu and Buddhist gods and is now dedicated to Cham deities. Also on the cliff of the mountain are such beautiful grottoes as Linh Nham Grotto, Van Thong Grotto, Tang Chon Grotto and Huyen Khong Grotto. Huyen Khong Cave was the base for Vietnamese revolutionaries during wartime.
The Marble Mountains are famous for their traditional stone engraving activities. In Dong Hai village close to Thuy Son, 600 families chisel stone producing statues, jewelry, and art work. Stone from the Marble Mountains has been exported to many countries.
Cultural and historical vestiges are still on every pagoda and tower of the early 19th century and on Champa sculptures of the 14th and 15th century. There are poets of the Le and Tran dynasty engraved on stones. All monuments such as the grave of Capital Tran Quang Khai's mother, a temple for worshiping Ngoc Lan princess (Minh Mang King's younger sister), autograph of conferring Tam Thai pagoda to be the national one, Da Chong tunnel, Ba Tho cave, Kim Son mountain, Am Phu cave, etc. are forceful evidences to the legendary Marble Mountains.
The stone carving village stretching along the road leading to the Ngu Hanh Son entrance is also a very attractive sight for visitors. At this village, you can admire all those wonderful works created by patient craftsmen right in front of you. All the stones for the works are taken and transferred from the Marble Mountains.
The Marble Mountains are situated between Da Nang City and Hoi an ancient town and very close to Non Nuoc Beach, which stretches for kilometres with clean and white sand and is one of the nicest beaches in Vietnam, which is very convenient for visitors who want to go climbing and bathing. Ngu Hanh Son is familiar to almost everyone who has been to Da Nang. It is so well known that many people consider it as the symbol of the area


2: The Cham Museum
The Cham Museum in Da nang is the largest collection of Cham sculpture and artwork in the world. Whenever visiting the museum, you still perceive an individual atmosphere particular to this place, the reverie of reminiscences.
Situated in a quiet area of Da Nang City, Cham Museum was built in 1915 according to the motifs of ancient Cham Architecture. At first it was named the Henry Parmenties Museum. The museum is officially known as the Museum of Champa Sculpture. The kingdom of Champa (or Lin-yi in Chinese records) controlled what is now south and central Vietnam from approximately 192 through 1697. The empire began to decline in the late 15th century, became a Vietnamese vassal state in 1697, and was finally dissolved in 1832. At present, the museum houses 297 stone and terracotta sculptural works made between the 7th and the 15th centuries. These are impressive works typical of the Cham culture.

A Brief History of the Champa
According to Chinese chronicles, the Champa kingdom was founded in 192 A.D and had different names such as Lin-Yi, Huang-Wang and Chang-Chen. Its territories stretched from south of the Ngang Pass in Quang Binh Province to the delta area of the Dong Nai River in Binh Thuan Province. It included the coastal plains, highland and mountain ranges.
Influenced by the early Hindu civilization, the Champa kingdom was a federation of several smaller states called Mandala and comprised several ethnic groups.
The most important legacy of the Champa kingdom is located in Central Vietnam in the form of brick temples and towers which are scattered over the coastal lowlands and highlands. The structures date from between the 7th and 8th centuries to the 16th and 17th centuries and are concentrated in Quang Nam, Da nang, Binh Dinh, Khanh Hoa, Ninh Thuan and Binh Thuan.

The most extensive collection of Cham art worldwide...
The Cham Museum was built in Cham architectural style, using thin lines that are simple and gentle. The museum displays an intensive and diverse collection of Champa sculpture dating from the 7th to the 15th centuries, when a matriarchal society prevailed.
The museum was established at the end of the 19th century by the Ecole Francaise d'Extreme Orient with a collection of artifacts gathered in central Vietnam, from Quang Binh to Binh Dinh. They were then displayed at Le Jardin de Tourane on a small hill by the Han River. This is the site of the present museum. The building was designed by two French architects, Delaval and Auclair, in imitation of the most commonly used aspects of Champa towers and temples. At present, the museum displays approximately 300 sandstone and terra-cotta sculptures, among which some are made from terracotta. Most of the artifacts are masterpieces of Champa art and some are considered to be equal to works anywhere in the world. The sculptures were collected from Cham temples and towers throughout Central Vietnam, more specifically the area stretching from Quang Binh to Binh Thuan. All the sculptures are displayed in ten showrooms named after the localities where the pieces have been discovered.
After viewing the pieces in the showrooms, you can visit exterior exhibitions. The arts of the Champa were chiefly sculpture, but the sculptures are only part of the religious architecture. The temples and towers themselves are considered to be sculptural artifacts. They are decorated on the exterior of their brick walls with bas-relief columns, flowers and leaves and worshipping figures between brick pillars. The tympana, lintels and the ornamental corner pieces are of sandstones carved with the figures of gods, the holy animals of the Hindus and flowers and leaves.
The artifacts displayed at the museum are altars, statues and decorative works collected from Hindu and Buddhist temples and towers. Champa sculpture displays various styles. Sometimes they were influenced by other cultures but no matter at what period or in what style the Champa artifacts were made they always displayed original characteristics.
Visitors to the museum will have the opportunity to appreciate the eight centuries of evolution of Champa sculpture from its golden age to its decline. In their own way, the artifacts exemplify the rise and fall of the Champa civilization. When we stand before these artistic masterpieces we can comprehend the noblest ideal of art, the creation of the infinite from the finite. The eight centuries of art at the Champa museum is a thick history book reflecting the ups and downs of Champa art. From inanimate stones came living art, and from these wonderful invaluable artifacts we can get the feeling that the warmth from the Champa artists' hand is still there, on the fine skin of the stone-timeless.
The sculptures displayed here almost have the same drifting life as the very destiny of the once-glorious culture that generated them. Through the ruins of time, war and even the oblivion, such original Champa sculptures were hardly collected and brought here by many human generations. And in this systematic collection, these works of the ancient Champa artists again have a new life.
Coming to visit the museum, it seems that you can see again the glorious time of the past of a nation for whom both the passion for art and the creative talent were already at a very high level. The mysterious world of deities, the pictorial legends, the religious symbols, the curving lines of the bodies of dancing girls, the features of full swelling breasts, the smiles of a vague time, all of these are shown very lively and in much in details.
The art of Champa, although influenced by the Hindu themes of India and Southeast Asia, has many elements that make it distinctive. Temples in Champa were made of bricks. As a result, artists did not have long expanses of wall to decorate with bas-reliefs depicting Hindu epics or phases of Buddhist life as seen, for example, at Angkor Wat. The Chams incorporated their sculptures into their temple architecture by carving them separately and making them part of the construction. These carvings are classified into four main groups: Icons; Pedestals; Pediments; Fragments of architectural decorations at the base or on various ties of the temple.
Profoundly influenced by the architecture and sculpture of the Indian civilization, the ancient Champa has a vision of life and religion according to their own feeling. Such refraction brought to their world of art a subtle and distinct beauty: spiritual and very close, unique and familiar...

Other highlights:


Pagodas in Danang | Ba Na Mountain | My Khe Beach | Non Nuoc Beach | Hai Van Pass | Son Tra Peninsula


Pictures of Hoi an ancient town, some 25km from Danang

Danang Map
+ More Hire van from Hue to Hoian

+ Hire van from Hue to DMZ
Vietnampathfinder Car Rental Services - 17 years' experience.
We are a private and professional car rental company, head office based in Hanoi city capital of Vietnam, we have been providing car/ van rental services in Vietnam for over 17 years now, with large choice of private car/van/bus for working, business trip, family travel, also group tours for tourist, student groups...
Our private cars and coachs are all new, from standard to Luxury vehicles, limousine vans.
Our professional car rental services 24 hours a day, 7 days a week to and from all major Vietnam airports such as Noi Bai (in Hanoi), Danang (in Danang), Tan Son Nhat (in Hochiminh city) International Airports, Phnompenh and Siemreap (Cambodia), Vientiane and Luangprabang (Laos) Yangon (Myanmar)

Our prices remain consistent, there are no hidden costs and our customers rely on guaranteed quality service.

By using our online booking service, you can be assured that our drivers will be there to greet you at the Arrivals or Pick-up address on time. Advanced 24 hours booking reservations are required if you wish to use our online booking service.

To take advantage of our excellence in taxi service and for any special arrangements, we recommend you phone or email us 24 hours before your arrival/departure.

Our Transportation Services include:

+ Airport Transfers : Hanoi, Hai phong, Dong Hoi, Hue, Danang, Nha Trang, Dalat, Hochiminh, Can Tho, Phu Quoc
+ Seaport Transfers: Hai Phong, Cai lan (Halong), Tien sa (danang), Chan may (Hue), Vung Tau, Saigon
+ Long journeys departing from: Hanoi, Hue, Hoi an, Nha Trang, Hochiminh, Can Tho
+ Long journeys cross border (Vietnam-Indochina): Vietnam- Laos ( from Hanoi to Vientinae or Luangprabang), Vietnam-Cambodia (from Ho Chi Minh city to Phnompenh or Siemreap)

Day Bookings also available! You can book a car/ Bus for a whole day or for a few hours for which the service will be charged at an hourly basis.
-Airport transfer Inclusion of:
Road, bridge tolls, parking fees of day time( not night time), gasoline, car insurance and professional, licensed driver ( at least 4years of driving experience).


- Airport transfer Exclusion of:
Overnight parking fee (outside the cities of Hanoi and Ho Chi Minh).
And all other not mentioned in the routings


Car conditions:
All moderns (made in 2019-2020-2021-2022) with air-conditioning, seat-belts and all are new cars

Type of Car:
Ford , Mecerdes, Honda, Toyota, BMW, Huyndai

+ 4 Seats car for 3 passengers + 2 midsize suicases
+ 7 Seats SUV car for max 5 passengers + 3 midsize suicases
+ 6 & 9 Seats DCar Deluxe Limousine Van for max 6 passengers + 6 midsize suicases
+ 11 & 16 Seats SoLaTi Deluxe Limousine Van for max 8 passengers + 8midsize suicases
+ 16 Seats Ford Van for max 10 passengers + 6 midsize suicases (keep all back seats for your suicaces)
+ 13 & 18 Seats (Fuso) Business Class Limousine Mini-Bus for max 10 or 18 passengers + midsize suicases
+ 29 & 30 Seats Mini-Bus for Max 14 passengers + 14 midsize suicases (keep all back seats for your suicaces)
+ 34 Seats Bus for Max 26 passengers + 26 midsize suicases (keep some back seats for your suicaces and some in the trunk under your seats)
+ 45 Seats Bus for Max 40 passengers + 20 midsize suicases (Your suicaces will be stored in the trunk under your seats) or 30 Passengers with 40 midsize suicases (keep some back seats for your suicaces and some in the trunk under your seats)

-->>For quick questions or booking, please contact Whatsapp: (084) 913323977 (Mr Pham)


View our car, van, bus for hire in Vietnam-Laos-Cambodia-Myanmar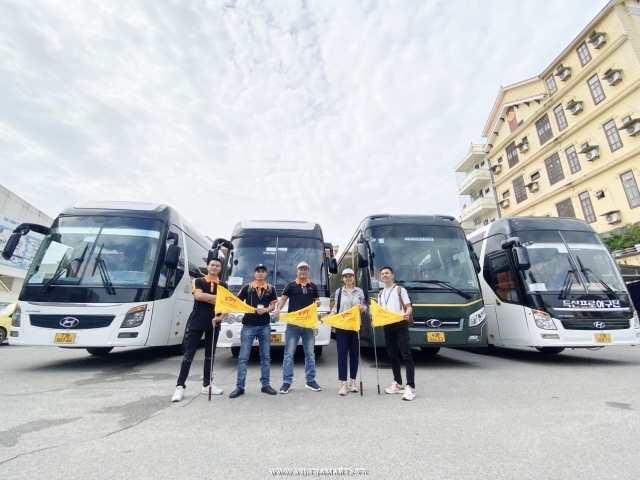 45seaters coachs of VietnamPathfinder (VPT)
45seaters coachs of VietnamPathfinder (VPT)


45 Seats Coach



45seats coach for rental with VietnamPathfinder
45 seats bus rental with Vietnam Pathfinder Travel


Interior - 45 seats bus rental with Vietnam Pathfinder Travel


30 seats mini-bus - Country 2017


29 seats - Mini-bus (Country)


35seats Bus -Thaco
45 seats Coach




Cabin of 45 seats coach


Interior of 45 seaters coach

30 seaters -Thaco -2017



Interior -30 seaters -Thaco -2017


Cabin of 30 seats mini-bus


29 Seaters - Universe 2022


Interior - 29 Seaters - Universe 2022


4seats private car
7 Seats Car Innova -2022
Sedona Van -7 seats
Sedona Van -7 seats
16seats Van - Ford (USA Made)


Interior - 16seats Van (Ford -US Made)
This van is an idea van for party of 12-13 people travel together for sightseeing tour
or 9-10 people with luggages



Interior - 16seats Van (Ford -US Made)


16 seats van - Ford (USA Made)
16 Seats Mini-Van (Ford -USD Made)
Limousine - Van - Dcar Rental in Vietnam - 6-9seats



Solati -16 Seaters - Limousine Van
Solati -16 Seaters - Limousine Van




Interior -Solati -15&16 Seaters - Limousine Van (More comfortable than a 16 seats Ford Van)
Solati van is an idea van for group of 12-13 people travel together for sightseeing tour.
Or 8-9 people with luggage only



Limousine Business Class - 18seaters
This luxury limousine mini-bus is a great idea for a party from 15-17 people travel together for sightseeing city.
Interior - Limousine Business Class - 18seaters

Fuso Limousine van - 13 seats (for party of 10 people travel together for sightseeing tour)



Fuso Limousine van - 13 seats



Interior- Fuso Limousine van - 13 seats
(this luxury van is an idea van for group from 10-11 people travel together)
or 7 people with luggages


Interior - Fuso Limousine van - 13 seats



Limousine - Van - Dcar Rental in Vietnam - Interior 7seaters


Luxury Car - Mercedes E-300 - Vietnam Car Rental


Mercedes E-300
Mercedes E-400 for business rental in Hanoi- Danang- Nha Trang- HCM city


For any urgent booking, please call direct to our support number/ Whatsapp: (084) 913323 977
Vietnampathfinder commitment is the delivery of bespoke, safe and best services
With a focus on experience, guest safety, quality control and service delivery, we will check every details to make sure that our travel sevices or your booking travel with us a most enjoyable. Each request is dutifully responded to within 24 hours unless negotiations and special requests are required on your behalf; our team of Vietnampathfinder will ultimately inform and follow up or you also can call us any time at 084. 913323 977 (Mr Pham).

Payment
100% of the total car rental costs to be paid upon commitment of the car rental.

We do accept payment methods:
+ Credit card = 2.7% bank fees is levied in addition to the invoiced amount. Kindly make sure you include the invoice number or contact our Accounting Department for an invoice number so that your payment can be identified. Please also check with the bank who issued your credit card to ensure that no other bank fee is applied.
+ Paypayl online = 4.7%, fast but high fees
+Cash on arrival: we accept in some cases with 50% deposit by paypal or credit card online and the balance of 50% by cash on arrival Vietnam (collect by tour guides, drivers directly from tour leader or your clients).

+ Bank transfer = 25$/ 1 time bank fees/ whole amount (takes 3 days to complete and easy, this is low bank fees for big amount)

Responsibilities:
+ To ensure our cars are not being used for any for any illegal or immoral purpose
+ Our cars and drivers will refuse to carry passengers who not in the booking list (Names) or Number of People in the party at booking confirmation.
+ Pick up location changes must to inform us at 12 hours before departure and will be applied the surcharge if over 3 km from the original booking
+ For airport pick up, if the flight will delay for over 1hour, we will apply the surcharge for 50% and over 2 hours will charge 100% (as a new booking car)
+ Incorrect information such as arrival flight numbers, gate number, dock number, hotel names, passenger names, border gate names, arrival visa trouble will be considered as the services done and renew ones will be full charged
+ We will not agree if you take the wheel as a part of safety reasons, our drivers are licensed to do this job.
+ Our drivers can refuse to drive you to the sites that out of our booked schedules/ itineraries, surcharge will be applied upon request

Cancellations & Refunds
Any cancellations should be made in writing to VietnamPathfinder Travel (email at: info@vietnampathfinder.com ). Cancellations beyond your control subject to Force Majeure can be covered under travel insurance. We recommend you buy Travel insurance before you complete payment of your travel and review its relevant product disclosure statement. Cancellation fees of loss of deposit will be applied if a confirmed booking is cancelled 22 days or more prior to arrival date

For bookings that are cancelled by the passenger or agent 21 - 15 days prior to arrival date, loss of 50% of the total car rental cost will be applied.

For bookings that are cancelled by the passenger or agent 14 - 8 days prior to arrival date, loss of 75% of the total car rental cost will be applied.

Vietnampathfinder reserves the right to claim 100% of the total car rental cost should the cancellation happen within 7 days before departure.


We reserve the right to modify these cancellations & refunds policies without prior notice.

Last Minutes Booking Policies
Last minutes bookings if the bookings are made in 72 hours, 48 hours or 24 hours before departure

Less than 24 hours before your trip departure, please email us at: info@vietnampathfinder.com or Call at 084 913323977 and only process the final booking on our website when get confirmation emails from our sale teams.

Refund and amendment will not be applied for last minute bookings.

Special surcharge during Vietnam Tet Lunar New Year:
We will request a special surcharge during 3days of Vietnam Tet Lunar New Year, this surcharge is added further 20%/ each day (during 3days of Tet Holiday period) and will inform you before process the booking our car

Hope you would like the information!
Should you have any question, please don't hesitate to write us, we are here to help!
With appreciation for your:

+ Your email will be invisible
+ We will respond to your email or on this page