Trip code: C-355
Routing: Lao Cai Train Station-Sapa 1Way
Type of car: Innova, Fortuner, Ford Everest, Santafe (7Seats)
Number of seats: Car 7 seats
Validity: 2023-12-31
Price: 118.8 $
We accept payment via:
|
We provide private 7 seats car, mini-van to transfer from Sapa Town to Lao Cai Train station (near China boder gate) for night train to Hanoi (the night train depart at 09.15 PM and arrival Hanoi at 05.30 am next day), It takes some 1 hour for driving/ one way.
Lao Cai town (or the train station) is some 40 km from Sapa.


Hire car included: Local driver, Gas, Road tolls, Parking fees

Note:
+ Today, the new highway from Hanoi to Sapa mountains opens and travel by road will takes some 4 hours/ one way (around 340km) and this option become more convenient, departs from Hanoi early and you can get to Sapa town at lunch time, PM you can do sightseeing Sapa Villages.
+ Some daily car rental for sightseeing around Sapa town: Can Cau Market, Bac Ha Market (100km from Sapa), Tam Duong ethnic village and Market, Mu Cang Chai village (for rice paddy terraced), Lai Chau town or Dien Bien Phu city.

For rental a private car for 2-3 days or longer for this mountain trips, please contact us further information at Email: info@vietnampathfinder.com
Sapa Mountains and Best highlights for your private car rental trips to visit:
Picture of our private 7seats car for hire in Sapa mountains
Dcar Limousine 7seaters van
We also provide Dcar Limousine 7seaters van for small tour groups with comfortable interior van
Interior - 7seats Limousine DCar
a Great choice for long driving from Hanoi to Sapa mountains and long trip to Northern parts of Vietnam
Can hire a private car in Sapa town for 2 hours sightseeing Ta Van Village
Some time, you will meet some water buffalos at rice field near Ta Van or Lao Chai village

Sapa Mountains (at top of Sapa pass or Hoang Lien Son Pass)



This is Sapa town, all in walking distance, please click to view more pictures of Sapa




O Quy Ho Pass in Sapa Mountains, a must to see when travel to Sapa
You can hire our private car with local licensed driver for 4 hours to do this special visit

Panxifan, the highest mountains in Sapa -3143 Meter above the sea level
Sapa mountains, an ideal place in your Vietnam honeymoon vacations too!
There is a lot of beauty places for your daily sightseeing, relaxing.
Many local 4 star hotels with great view over the beauty valley with local ethnic villages and surrounding high mountains
Sapa Market and Town Centre where the Black Hmong ethnic come to trade (next to Sapa Stone Church)
Sapa Town is exactly a mountainous area of Northwest Vietnam. The whole Sapa District is dominated by the Hoang Lien Son mountain range which is at the Eastern extremity of the Himalayas, being famous with the Vietnam's highest mountain of Fa si pan at a height of 3,142 m above sea level. The town of Sa Pa lies at an altitude of about 1,600 m, bringing in a cool and foggy site of Sa Pa Town

the average temperature of the area is always 15-18°C, cool in summer, but a bit cold in winter.

Sapa natural beauty spots, such as Ham Rong Mountain, Silver Waterfall, Rattan Bridge, Bamboo Forest and Ta Phin Cave. The town is also the starting point for many mountain climbers and scientists who would like to discover the Fansipan Mount, the highest mountain in Vietnam with 3,143 m height. Can you imagine that Hoang Lien Mountain Range is called "the Alps of the North Sea area"

Map of Sapa-Lao Cai
Vietnampathfinder Car Rental Services - 17 years' experience.
We are a private and professional car rental company, head office based in Hanoi city capital of Vietnam, we have been providing car/ van rental services in Vietnam for over 17 years now, with large choice of private car/van/bus for working, business trip, family travel, also group tours for tourist, student groups...
Our private cars and coachs are all new, from standard to Luxury vehicles, limousine vans.
Our professional car rental services 24 hours a day, 7 days a week to and from all major Vietnam airports such as Noi Bai (in Hanoi), Danang (in Danang), Tan Son Nhat (in Hochiminh city) International Airports, Phnompenh and Siemreap (Cambodia), Vientiane and Luangprabang (Laos) Yangon (Myanmar)

Our prices remain consistent, there are no hidden costs and our customers rely on guaranteed quality service.

By using our online booking service, you can be assured that our drivers will be there to greet you at the Arrivals or Pick-up address on time. Advanced 24 hours booking reservations are required if you wish to use our online booking service.

To take advantage of our excellence in taxi service and for any special arrangements, we recommend you phone or email us 24 hours before your arrival/departure.

Our Transportation Services include:

+ Airport Transfers : Hanoi, Hai phong, Dong Hoi, Hue, Danang, Nha Trang, Dalat, Hochiminh, Can Tho, Phu Quoc
+ Seaport Transfers: Hai Phong, Cai lan (Halong), Tien sa (danang), Chan may (Hue), Vung Tau, Saigon
+ Long journeys departing from: Hanoi, Hue, Hoi an, Nha Trang, Hochiminh, Can Tho
+ Long journeys cross border (Vietnam-Indochina): Vietnam- Laos ( from Hanoi to Vientinae or Luangprabang), Vietnam-Cambodia (from Ho Chi Minh city to Phnompenh or Siemreap)

Day Bookings also available! You can book a car/ Bus for a whole day or for a few hours for which the service will be charged at an hourly basis.
-Airport transfer Inclusion of:
Road, bridge tolls, parking fees of day time( not night time), gasoline, car insurance and professional, licensed driver ( at least 4years of driving experience).


- Airport transfer Exclusion of:
Overnight parking fee (outside the cities of Hanoi and Ho Chi Minh).
And all other not mentioned in the routings


Car conditions:
All moderns (made in 2019-2020-2021-2022) with air-conditioning, seat-belts and all are new cars

Type of Car:
Ford , Mecerdes, Honda, Toyota, BMW, Huyndai

+ 4 Seats car for 3 passengers + 2 midsize suicases
+ 7 Seats SUV car for max 5 passengers + 3 midsize suicases
+ 7 Seats DCar Deluxe Limousine Van for max 6 passengers + 6 midsize suicases
+ 9 Seats SoLaTi Deluxe Limousine Van for max 8 passengers + 8midsize suicases
+ 16 Seats van for max 10 passengers + 6 midsize suicases (keep all back seats for your suicaces)
+ 18 Seats Business Class Limousine Mini-Bus for max 18 passengers + 18midsize suicases
+ 29 Seats Mini-Bus for Max 14 passengers + 14 midsize suicases (keep all back seats for your suicaces)
+ 34 Seats Bus for Max 26 passengers + 26 midsize suicases (keep some back seats for your suicaces and some in the trunk under your seats)
+ 45 Seats Bus for Max 40 passengers + 20 midsize suicases (Your suicaces will be stored in the trunk under your seats) or 30 Passengers with 40 midsize suicases (keep some back seats for your suicaces and some in the trunk under your seats)

-->>For quick questions or booking, please contact Whatsapp: (084) 913323977 (Mr Pham)


View our car, van, bus for hire in Vietnam-Laos-Cambodia-Myanmar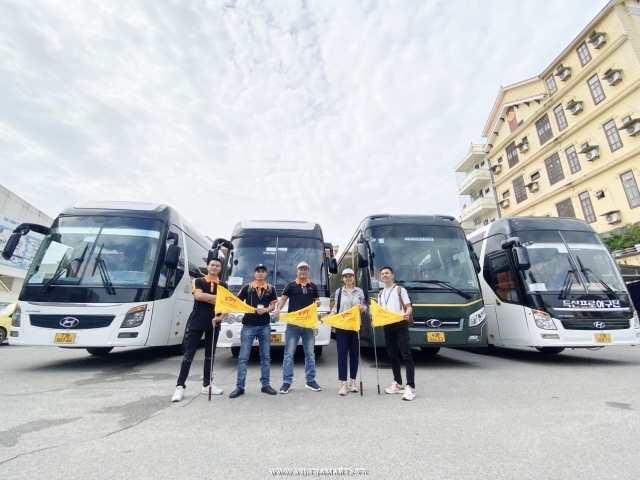 45seaters coachs of VietnamPathfinder (VPT)
45seaters coachs of VietnamPathfinder (VPT)


45 Seats Coach



45seats coach


30 seats mini-bus - Country 2017


29 seats - Mini-bus (Country)


35seats Bus -Thaco
45 seats Coach




Cabin of 45 seats coach


Interior of 45 seaters coach

30 seaters -Thaco -2017



Interior -30 seaters -Thaco -2017


Cabin of 30 seats mini-bus


29 Seaters - Universe 2022


Interior - 29 Seaters - Universe 2022


4seats private car
7 Seats Car Innova -2022
Sedona Van -7 seats
Sedona Van -7 seats
16seats Van


Interior - 16seats Van
16 Seats Mini-Van
Limousine - Van - Dcar Rental in Vietnam



Solati -9 Seaters -Van

Limousine Business Class - 18seaters
Interior - Limousine Business Class - 18seaters


Limousine - Van - Dcar Rental in Vietnam - Interior 7seaters


Luxury Car - Mercedes E-300 - Vietnam Car Rental


Mercedes E-300
Mercedes E-400 for business rental in Hanoi- Danang- Nha Trang- HCM city


For any urgent booking, please call direct to our support number/ Whatsapp: (084) 913323 977
Vietnampathfinder commitment is the delivery of bespoke, safe and best services
With a focus on experience, guest safety, quality control and service delivery, we will check every details to make sure that our travel sevices or your booking travel with us a most enjoyable. Each request is dutifully responded to within 24 hours unless negotiations and special requests are required on your behalf; our team of Vietnampathfinder will ultimately inform and follow up or you also can call us any time at 084. 913323 977 (Mr Pham).

Payment
100% of the total car rental costs to be paid upon commitment of the car rental.

We do accept payment methods:
+ Credit card = 2.7% bank fees is levied in addition to the invoiced amount. Kindly make sure you include the invoice number or contact our Accounting Department for an invoice number so that your payment can be identified. Please also check with the bank who issued your credit card to ensure that no other bank fee is applied.
+ Paypayl online = 4.7%, fast but high fees
+Cash on arrival: we accept in some cases with 50% deposit by paypal or credit card online and the balance of 50% by cash on arrival Vietnam (collect by tour guides, drivers directly from tour leader or your clients).

+ Bank transfer = 25$/ 1 time bank fees/ whole amount (takes 3 days to complete and easy, this is low bank fees for big amount)

Responsibilities:
+ To ensure our cars are not being used for any for any illegal or immoral purpose
+ Our cars and drivers will refuse to carry passengers who not in the booking list (Names) or Number of People in the party at booking confirmation.
+ Pick up location changes must to inform us at 12 hours before departure and will be applied the surcharge if over 3 km from the original booking
+ For airport pick up, if the flight will delay for over 1hour, we will apply the surcharge for 50% and over 2 hours will charge 100% (as a new booking car)
+ Incorrect information such as arrival flight numbers, gate number, dock number, hotel names, passenger names, border gate names, arrival visa trouble will be considered as the services done and renew ones will be full charged
+ We will not agree if you take the wheel as a part of safety reasons, our drivers are licensed to do this job.
+ Our drivers can refuse to drive you to the sites that out of our booked schedules/ itineraries, surcharge will be applied upon request

Cancellations & Refunds
Any cancellations should be made in writing to VietnamPathfinder Travel (email at: info@vietnampathfinder.com ). Cancellations beyond your control subject to Force Majeure can be covered under travel insurance. We recommend you buy Travel insurance before you complete payment of your travel and review its relevant product disclosure statement. Cancellation fees of loss of deposit will be applied if a confirmed booking is cancelled 22 days or more prior to arrival date

For bookings that are cancelled by the passenger or agent 21 - 15 days prior to arrival date, loss of 50% of the total car rental cost will be applied.

For bookings that are cancelled by the passenger or agent 14 - 8 days prior to arrival date, loss of 75% of the total car rental cost will be applied.

Vietnampathfinder reserves the right to claim 100% of the total car rental cost should the cancellation happen within 7 days before departure.


We reserve the right to modify these cancellations & refunds policies without prior notice.

Last Minutes Booking Policies
Last minutes bookings if the bookings are made in 72 hours, 48 hours or 24 hours before departure

Less than 24 hours before your trip departure, please email us at: info@vietnampathfinder.com or Call at 084 913323977 and only process the final booking on our website when get confirmation emails from our sale teams.

Refund and amendment will not be applied for last minute bookings.

Special surcharge during Vietnam Tet Lunar New Year:
We will request a special surcharge during 3days of Vietnam Tet Lunar New Year, this surcharge is added further 20%/ each day (during 3days of Tet Holiday period) and will inform you before process the booking our car

Hope you would like the information!
Should you have any question, please don't hesitate to write us, we are here to help!
With appreciation for your:

+ Your email will be invisible
+ We will respond to your email or on this page