Trip code: C-434
Routing: Hanoi- Yen Bai- Luc Yen/ 2Days
Type of car: Innova, Fortuner, Ford Everest, Santafe (7Seats)
Number of seats: Car 7 seats
Validity: 2023-12-31
Price: 455.4 $
We accept payment via:
|
We are local Hanoi car company and provide private car of 7 seats for an adventure trip to Luc Yen and Yen The (for exploring the gemstone mining area or shopping gemstone).
Overnight in local hotel in Yen The township, It takes some 5 and half hours from Hanoi to Luc Yen Gemstone Market.

Travel schedules (should be, but flexible to meet your idea):


Day1: Hanoi - Yen The Township
At 08.00 Am, pick up at hotel in Hanoi and drive on the highway (of Hanoi- lao Cai) for Yen Bai city, some 3 hours from Hanoi, next will continue our trip for further 90km to the Yen The Township of Luc Yen, arrival time around 02.30 Pm.
Stop for lunch en route at any small township en route such as Lang Dat.
Check in local hotel on arrival and free time your own exporation Yen The Township
Dinner at local restaurant and Overnight Yen Bai (hotel room and meals on your account).


Day2: Yen The Gemstone market - Hanoi
Am: have breakfast at local restaurant (suggest with Pho Noodle soup) and next will visit local gemstone market (just in walking distance from hotel), best time to visit from 08.30 Am to 10.30 Am, free time your own shopping and sightseeing the market, there is some busy day.you can meet up from 70-100 shop owners, gemstone dealers at the market.
At 11.30 Am, meet back our driver and depart back for Hanoi, lunch can be at any local restaurant en route, drop at your hotel or Noi Bai International airport on arrival Hanoi (around 05.30 Pm).


Car hire included: driver, private car, gas, road toll, parking fee and driver own expense

Car hire Excluded: Travel insurance (advise must to buy before travel Vietnam), local 4WD car rental from Yen The township to An Phu gemstone mines, hotel rooms, meals, water, personnel expenses..

Surcharge:
+ If you need an English speaking guide for this trip, guide fee : 45$/ day + guide accommodation (very basic) 30$/ night (upon request only), if you would like to visit the An Phu Gemstone/ Ruby Mines, you need to order a tour guide to escort from Hanoi for this special visits.
+ Local 4WD car rental from Yen The township to An phu gemstone mines (Mountains), some 30km/one way and driving time takes 1 hours/ 1way, surcharge = 100 USD/ 1private 4WD car/ 2ways trip


Note:
+ Local Hotel in Yen The Township can be booked through us before coming, standard double/ twin room = 38 $ (no breakfast )

+ Our driver can speak very little in English, so can not be as a tour guide

+ Visit local An Phu gemstone mines in the high mountain, you need to hire a local tour guide from An Phu Township, as he will know the trail to take us to visit the gemstone mines that still working and he can on behalf to ask permission to visit these mines too.

+ Highlight to visit the local gemstone mining area at : Nui Voi (Elephant Mountains), some 2 hours trekking (2ways) at Nuoc Ngap Village, An Phu Sub-district, Luc Yen District, Yen Bai Province ( you need a local tour guide, also permission to visit local mining area too), driving time from Yen The township (luc Yen ) to An Phu gemstone mountains will take some 1 hour 45 minutes (only 30km) but the trail to reach on top is very difficult and only local 4WD car and driver can take this trip, we also advise you to do 3days 2nights Luc Yen trip to have enough time for adventure trip to the An Phu Gemstone mountains that normally will take for 1day trip.


Please contact us further information at Email: info@vietnampathfinder.com or WhatsApp : (084)913323977

Luc Yen Gem Market

Local ruby trader at Luc Yen Gemstone Market - Yen Bai province, north Vietnam
She (also other local ruby traders) will show you some other better star ruby that they have
They all have special with high quality ones, if you wish to see or purchase.
gemstone for sale by local people in Luc Yen, Yen Bai
According to the sellers, gems are gathered from the persons who have gone to the mountains … and if having time, craftsmen will arrange the gems to make pendants of rings, necklaces, earrings, etc… Gems are also used as materials for making a gem picture, which are sold in the unit of kilogram or gram.

Each blue, red, purple, yellow, white, black gems have different sizes and shapes and is supervised and considered by the customers who are conversant with gems. The prices are announced depending on the type of gem which can be ten thousands, hundreds of thousand or a million, tens of millions dong. However, the succession of transaction is decided by the bargaining process.

With large choice of Spinel and Ruby from just 200$ to 50 000$ at Luc Yen gemstone market.
The market works in just several hours in every morning. Depending on reasons and weather, the market can take place sooner or later, but at about 08.00 am there are sellers in the market.


Local Luc Yen Gemstone Dealers at Market
There is some foreign ruby traders from India, Srilanka, Singapore, Australia, USA, European also come to visit this local ruby market

This luc yen spinel is value around 600$ (i just check with at market with a local dealer in Dec 2019)
You need some good skill to see of which ones are good for value.

When other (also) Luc Yen Ruby is value just 500$
The price is not fixed, all can be negotiable with local owners

Luc Yen star ruby - This high quality star ruby is value of 5000$
(The local ruby trader in Luc yen Market told me that is a whole sale price and the dealer from Hanoi can re-sell at big city at higher price, but at least from 8000$ up !)

This is an outstanding of Luc yen Ruby and Spinel with value of 5000$ (for each of them)
All local dealers in this market would like to show you what they have on offer


Spinel - Blue Gem founded in Sept 2019 at Bai Buoi Village- Lieu Do- Luc yen Dist- Yen Bai Province Lục Yên (tỉnh Yên Bái). its weigh of 2,1kg and just 1 meter under ground.
(Spinel has verious colors: White, Colorless, Blue, Red, Green, Yellow, Orange, Brown, Pink, Purple, Black)
Spinel - Blue Gem founded in Sept 2019 at Bai Buoi Village- Lieu Do- Luc yen Dist- Yen Bai Province Lục Yên (tỉnh Yên Bái)
Its weight 2.1 Kg, size: Length 13 Cm and Width 6 cm (a local Luc Yen Gemstone Miner had sold for a dealer at over 200.000 USD)
The picture is Bai Buoi Village- Lieu Do- Luc yen Dist- Yen Bai Province Lục Yên (tỉnh Yên Bái) where local Luc Yen people founded Spinel stone in Sept 2019 (its weight 2.1kg)
Spinel is a gemstone that comes in a variety of colors. Pure Spinel is colorless, but impurities are responsible for the wide range of colors. The most valuable and desirable Spinel color is a deep blood red, though blue, yellow, orange, pink, and purple colors also make fine gemstones. Spinel is often fluorescent in ultraviolet light, and this can be helpful in its identification.
Fine red Spinel is actually rarer than Ruby of equal color. However, its is an undervalued gemstone, with its cost is about 30% lower then comparable Ruby. The scarcity of good Spinel is the reason for its lack of demand and popularity. Gem Spinel is in very limited supply, and therefore jewelry companies and gem cartels don't really market this gemstone to the consumer. This inhibits Spinel from being a more mainstream gemstone.
Spinel is easily synthesized, and can be made into any color by adding impurities. Synthetic Spinel is often simulated to replicate many other gemstones such as Diamond, Sapphire, and Zircon. Because of the abundance of synthetic Spinel, one must always be careful only to purchase this gemstone from reputable dealers. Almost all colorless Spinel gemstones are synthetic, as it rarely occurs colorless in nature.
The "Star of Vietnam", a ruby stone of Vietnam with its outstanding of 2160 Gram- 10.800 Cara was found in An Phu- Luc Yen on 26 April 1997
This is the biggest ruby stone in the world and the Vietnam national treasure
This giant ruby has 2 parts, the smaller part is called " male ruby stone" is weight 290 Cara when the "Female ruby stone" is weight 10.800 Cara to make it become the most valuable in the whole world
Vietnamese government makes it name " the star of Vietnam"
After a meeting of local and Foreign ruby experts in Hanoi capital in Nov 1999, the 'Female ruby" was estimated of value with over 10 million USD
Tan Huong Gemstone mininga area in Yen Bai mountains where the giant ruby "star of Vietnam" was found in1997

car trip from yen the township to An Phu gemstone mountains that will take for one hour to An phu village before you will start for long trekking and cilmbing
Climb up the An Phu gemstone mountains
Climb up the An Phu gemstone mountains, An phu village is some 1 hour drive from Yen The Township, there are a hundred of private gemstone mines can be found at this high mountains, some the first gemstone mine can visit will take for around 1 hour trekking and climbing, some parts of the trail can be very difficult for climbing up and you need a local guys for help.
Here is our first gemstone mine in An Phu mountains that we had reached after over one hour of trekking and climbing.

a gemstone mine in An Phu Mountains
There are a hundred of local and small gemstone mines like this in An Phu high mountains, some will take for a day trekking and climbing to reach to the mines
Visit more local gemstone mine
The local miners had digged some narrow and deep caves into the rocky mountains of An Phu to search for gemstone
Searching for gemstones from the washed sand dunes
These gemstones that we got just in 5 minutes of searching (you also can find and get as many as you want for a gifts of the trip to An Phu mines)
And this cobalt stone had been found from the An Phu gemstone mine
Our trekking back An Phu village at around 4 Pm and start our late lunch ( you need to order your lunch at a local family before start trekking trip to An phu gemstone mines, so when you come back the village then everythings are ready).
After late lunch, start our car trip back the Yen The Township for overnight.

The trip from Yen The township to visit An phu Gemstone mines will take for full-day, depart at 08.30 am and return trip at around 6.00 PM.

to make this trip, please contact: info@vietnampathfinder.com
or Whatsapp: (084) 913323977 (Mr Pham)
Local Gemstone dealers, traders at Luc Yen Gemstone Market - Yen The Township - Yen Bai province
Luc Yen gem market sparkles with life
For over 15 years now, Luc Yen gem market has been an excellent place to buy and sell precious stones, specifically from Luc Yen District's plentiful gemstone mining areas. The market has been open since 1992, following fast on the heels of An Phu Village's nearby discovery of gem-quality rubies.
And though the market still operates today, it's not nearly as busy or noisy as it used to be.
Luc Yen is located about 100km from the small Yen Bai capital in Yen The Town, and is one of only three locations, including Quy Hop and Dac Nong, famous for gemstones in Viet Nam.
To reach Luc Yen, we entered through the mountains on narrow roads, that twisted like snakes. The houses we passed appeared small and covered by the leaves of many palm trees. The atmosphere was very clean and fresh.
Upon hearing that the Luc Yen gem market was only open in the very early morning, between 6.30 and 9.30am, we planned to go there first thing the following day. We spent the night in the town so that the next morning we could easily get to the market.
"There are more than 40 small tables upon which many different kinds of gemstones are shown on Sundays, though during the week there are only about 10 tables," said Pham Thi Hoa, chief of Luc Yen District's People's Committee Secretariat.
At the market, you can see sellers show off their products, including rubies, spinel, opal and jadeite, on rows of small tables.
But at the market one can often see buyers and sellers using a torch-like tool, trying to figure out the value of the gemstones.
Nguyen Van Hung, a gemstone trader since the market was formed, said, "A gemstone will have the highest value if it is dark red, otherwise, when it is black. The harder it is, the more it is worth. When a gemstone is examined by a torch, if it has a strong light refraction and has the form of a star which is clear and has no cracks, then its quality is very good. If I buy one or two gemstones like that I will make a lot of money when I resell them."
Pham Thi Bi, a 62-year-old seller who retired in 1990 and dug gemstones for a year and then returned to sell them, said, "I often sell products to people who want to buy them for making jewellery, because my products are already ground. Gemstone traders only often buy crude gemstones.
"I can earn about VND200,000 (US$12) to VND300,000 ($18) per day, though sometimes I come home with nothing."
A group of customers pass from hand to hand blue and red gemstones which have been cut and ground. One buys a gemstone worth VND1 million ($60), and another buys one worth only VND100,000 ($6). But everyone goes home happy.
Nguyen Thi Nhung, a customer, said, "Luc Yen gemstones are famous for their beauty, and they are not overly expensive, so people come here often to buy at least one gemstone as a present. If I buy this gemstone near my home, maybe I will pay double or more."
Somewhere else in the market, Nguyen Van Cuong, a gemstone trader, is bargaining with a seller, "VND500,000 for this, and VND300,000 for that?" The seller doesn't agree. He and his friends call for another seller. This is the second time Cuong has bargained.
Gem mining areas are scattered over Yen The's mountains and forests. Many of Luc Yen's gemstones have very diversified colours. And many of the gems in Luc Yen market are sold to make paintings inlaid with stones. The paintings are copied from originals, including folk and modern pictures. More than ten shops selling gemstone pictures are open around the gem market. The paintings' colours derive completely from natural gemstones.
Visiting a large shop selling gemstone painting, called Tay Ngoc, we see two craftsmen glueing stones over sketched pictures. It is very difficult work, as they must choose each individual stone to perfectly match part of the picture while remaining suitable to the size and colour of the image.
Tay Ngoc shop was only established in 2006, but already it is nearly the biggest store in the area.
Tay Ngoc shop doesn't only sell gemstone pictures. It also sells gemstones, white stone blocks with gemstones inside, statues and calendars.
Hoang Thi Hanh Giang, Tay Ngoc's owner, who used to dig and sell gemstones himself, said, "Luc Yen has developed many of these shops in the recent years. We trade conveniently because we have access to the root source of the materials."
Tay Ngoc shop got its name because of a gemstone that appears to be a hand accepting a gem.
"Craftsmen like us want to pick up every small gem for our jobs. But this is nature's masterpiece. This gem has star quality, like ruby or sapphire."
As for the paintings, even though they are made of precious stones, their prices can be very affordable. In general, the price, depending on size and design, can vary from VND500,000 to a few million dong. Fortunately, there's usually a price range for everybody interested in buying this art.
"Gemstone pictures have extremely permanent colour. It isn't affected by temperature or environment. Even after a long time hanging, you can use the soapy water and a soft brush to wash the picture if it is dirty. The picture will endure."
Luc Yen gem market developed quickly in the early 90s. People from all over the c
Vietnampathfinder Car Rental Services - 17 years' experience.
We are a private and professional car rental company, head office based in Hanoi city capital of Vietnam, we have been providing car/ van rental services in Vietnam for over 17 years now, with large choice of private car/van/bus for working, business trip, family travel, also group tours for tourist, student groups...
Our private cars and coachs are all new, from standard to Luxury vehicles, limousine vans.
Our professional car rental services 24 hours a day, 7 days a week to and from all major Vietnam airports such as Noi Bai (in Hanoi), Danang (in Danang), Tan Son Nhat (in Hochiminh city) International Airports, Phnompenh and Siemreap (Cambodia), Vientiane and Luangprabang (Laos) Yangon (Myanmar)

Our prices remain consistent, there are no hidden costs and our customers rely on guaranteed quality service.

By using our online booking service, you can be assured that our drivers will be there to greet you at the Arrivals or Pick-up address on time. Advanced 24 hours booking reservations are required if you wish to use our online booking service.

To take advantage of our excellence in taxi service and for any special arrangements, we recommend you phone or email us 24 hours before your arrival/departure.

Our Transportation Services include:

+ Airport Transfers : Hanoi, Hai phong, Dong Hoi, Hue, Danang, Nha Trang, Dalat, Hochiminh, Can Tho, Phu Quoc
+ Seaport Transfers: Hai Phong, Cai lan (Halong), Tien sa (danang), Chan may (Hue), Vung Tau, Saigon
+ Long journeys departing from: Hanoi, Hue, Hoi an, Nha Trang, Hochiminh, Can Tho
+ Long journeys cross border (Vietnam-Indochina): Vietnam- Laos ( from Hanoi to Vientinae or Luangprabang), Vietnam-Cambodia (from Ho Chi Minh city to Phnompenh or Siemreap)

Day Bookings also available! You can book a car/ Bus for a whole day or for a few hours for which the service will be charged at an hourly basis.
-Airport transfer Inclusion of:
Road, bridge tolls, parking fees of day time( not night time), gasoline, car insurance and professional, licensed driver ( at least 4years of driving experience).


- Airport transfer Exclusion of:
Overnight parking fee (outside the cities of Hanoi and Ho Chi Minh).
And all other not mentioned in the routings


Car conditions:
All moderns (made in 2019-2020-2021-2022) with air-conditioning, seat-belts and all are new cars

Type of Car:
Ford , Mecerdes, Honda, Toyota, BMW, Huyndai

+ 4 Seats car for 3 passengers + 2 midsize suicases
+ 7 Seats SUV car for max 5 passengers + 3 midsize suicases
+ 6 & 9 Seats DCar Deluxe Limousine Van for max 6 passengers + 6 midsize suicases
+ 11 & 16 Seats SoLaTi Deluxe Limousine Van for max 8 passengers + 8midsize suicases
+ 16 Seats Ford Van for max 10 passengers + 6 midsize suicases (keep all back seats for your suicaces)
+ 13 & 18 Seats (Fuso) Business Class Limousine Mini-Bus for max 10 or 18 passengers + midsize suicases
+ 29 & 30 Seats Mini-Bus for Max 14 passengers + 14 midsize suicases (keep all back seats for your suicaces)
+ 34 Seats Bus for Max 26 passengers + 26 midsize suicases (keep some back seats for your suicaces and some in the trunk under your seats)
+ 45 Seats Bus for Max 40 passengers + 20 midsize suicases (Your suicaces will be stored in the trunk under your seats) or 30 Passengers with 40 midsize suicases (keep some back seats for your suicaces and some in the trunk under your seats)

-->>For quick questions or booking, please contact Whatsapp: (084) 913323977 (Mr Pham)


View our car, van, bus for hire in Vietnam-Laos-Cambodia-Myanmar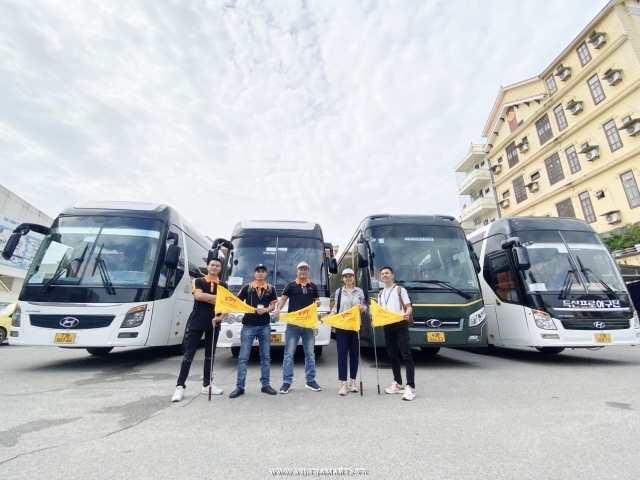 45seaters coachs of VietnamPathfinder (VPT)
45seaters coachs of VietnamPathfinder (VPT)


45 Seats Coach



45seats coach for rental with VietnamPathfinder
45 seats bus rental with Vietnam Pathfinder Travel


Interior - 45 seats bus rental with Vietnam Pathfinder Travel


30 seats mini-bus - Country 2017


29 seats - Mini-bus (Country)


35seats Bus -Thaco
45 seats Coach




Cabin of 45 seats coach


Interior of 45 seaters coach

30 seaters -Thaco -2017



Interior -30 seaters -Thaco -2017


Cabin of 30 seats mini-bus


29 Seaters - Universe 2022


Interior - 29 Seaters - Universe 2022


4seats private car
7 Seats Car Innova -2022
Sedona Van -7 seats
Sedona Van -7 seats
16seats Van - Ford (USA Made)


Interior - 16seats Van (Ford -US Made)
This van is an idea van for party of 12-13 people travel together for sightseeing tour
or 9-10 people with luggages



Interior - 16seats Van (Ford -US Made)


16 seats van - Ford (USA Made)
16 Seats Mini-Van (Ford -USD Made)
Limousine - Van - Dcar Rental in Vietnam - 6-9seats



Solati -16 Seaters - Limousine Van
Solati -16 Seaters - Limousine Van




Interior -Solati -15&16 Seaters - Limousine Van (More comfortable than a 16 seats Ford Van)
Solati van is an idea van for group of 12-13 people travel together for sightseeing tour.
Or 8-9 people with luggage only



Limousine Business Class - 18seaters
This luxury limousine mini-bus is a great idea for a party from 15-17 people travel together for sightseeing city.
Interior - Limousine Business Class - 18seaters

Fuso Limousine van - 13 seats (for party of 10 people travel together for sightseeing tour)



Fuso Limousine van - 13 seats



Interior- Fuso Limousine van - 13 seats
(this luxury van is an idea van for group from 10-11 people travel together)
or 7 people with luggages


Interior - Fuso Limousine van - 13 seats



Limousine - Van - Dcar Rental in Vietnam - Interior 7seaters


Luxury Car - Mercedes E-300 - Vietnam Car Rental


Mercedes E-300
Mercedes E-400 for business rental in Hanoi- Danang- Nha Trang- HCM city


For any urgent booking, please call direct to our support number/ Whatsapp: (084) 913323 977
Vietnampathfinder commitment is the delivery of bespoke, safe and best services
With a focus on experience, guest safety, quality control and service delivery, we will check every details to make sure that our travel sevices or your booking travel with us a most enjoyable. Each request is dutifully responded to within 24 hours unless negotiations and special requests are required on your behalf; our team of Vietnampathfinder will ultimately inform and follow up or you also can call us any time at 084. 913323 977 (Mr Pham).

Payment
100% of the total car rental costs to be paid upon commitment of the car rental.

We do accept payment methods:
+ Credit card = 2.7% bank fees is levied in addition to the invoiced amount. Kindly make sure you include the invoice number or contact our Accounting Department for an invoice number so that your payment can be identified. Please also check with the bank who issued your credit card to ensure that no other bank fee is applied.
+ Paypayl online = 4.7%, fast but high fees
+Cash on arrival: we accept in some cases with 50% deposit by paypal or credit card online and the balance of 50% by cash on arrival Vietnam (collect by tour guides, drivers directly from tour leader or your clients).

+ Bank transfer = 25$/ 1 time bank fees/ whole amount (takes 3 days to complete and easy, this is low bank fees for big amount)

Responsibilities:
+ To ensure our cars are not being used for any for any illegal or immoral purpose
+ Our cars and drivers will refuse to carry passengers who not in the booking list (Names) or Number of People in the party at booking confirmation.
+ Pick up location changes must to inform us at 12 hours before departure and will be applied the surcharge if over 3 km from the original booking
+ For airport pick up, if the flight will delay for over 1hour, we will apply the surcharge for 50% and over 2 hours will charge 100% (as a new booking car)
+ Incorrect information such as arrival flight numbers, gate number, dock number, hotel names, passenger names, border gate names, arrival visa trouble will be considered as the services done and renew ones will be full charged
+ We will not agree if you take the wheel as a part of safety reasons, our drivers are licensed to do this job.
+ Our drivers can refuse to drive you to the sites that out of our booked schedules/ itineraries, surcharge will be applied upon request

Cancellations & Refunds
Any cancellations should be made in writing to VietnamPathfinder Travel (email at: info@vietnampathfinder.com ). Cancellations beyond your control subject to Force Majeure can be covered under travel insurance. We recommend you buy Travel insurance before you complete payment of your travel and review its relevant product disclosure statement. Cancellation fees of loss of deposit will be applied if a confirmed booking is cancelled 22 days or more prior to arrival date

For bookings that are cancelled by the passenger or agent 21 - 15 days prior to arrival date, loss of 50% of the total car rental cost will be applied.

For bookings that are cancelled by the passenger or agent 14 - 8 days prior to arrival date, loss of 75% of the total car rental cost will be applied.

Vietnampathfinder reserves the right to claim 100% of the total car rental cost should the cancellation happen within 7 days before departure.


We reserve the right to modify these cancellations & refunds policies without prior notice.

Last Minutes Booking Policies
Last minutes bookings if the bookings are made in 72 hours, 48 hours or 24 hours before departure

Less than 24 hours before your trip departure, please email us at: info@vietnampathfinder.com or Call at 084 913323977 and only process the final booking on our website when get confirmation emails from our sale teams.

Refund and amendment will not be applied for last minute bookings.

Special surcharge during Vietnam Tet Lunar New Year:
We will request a special surcharge during 3days of Vietnam Tet Lunar New Year, this surcharge is added further 20%/ each day (during 3days of Tet Holiday period) and will inform you before process the booking our car

Hope you would like the information!
Should you have any question, please don't hesitate to write us, we are here to help!
With appreciation for your:

+ Your email will be invisible
+ We will respond to your email or on this page