Trip code: C-730
Routing: Saigon- Dalat / 1Way / 1Day
Type of car: Mercedes Springter, Ford Transit (16 Seats)
Number of seats: Mini-Van 16 Seats
Validity: 2023-12-31
Price: 297.0 $
We accept payment via:
|
We provide private 16 seats van ( suggest for family or small group from 8-10 passengers + small luggage) for transfer from Saigon- Dalat (airport/ city) for 1day and 1 way.

Driving schedules ( flexible):

Day1: pick up at your hotel in Saigon this morning and driver Dalat mountains, some 300km and driving time around 6 hours, on arrival, transfer to your hotel/ home and end car rental services.
Van rental included: Driver (Speak very little in English), Private 16seats Van, Gas, Road tolls, Parking fees
Van rental excluded: meals, hotel rooms, travel insurance, personal expenses.
Note:
+ Surcharge for departure from Saigon, after 13.00 Pm, this surcharge for hotel room for driver and van stays overnight in Dalat = 50$/ 1van
+ No accept booking for departure from Saigon after 14.00 PM, as the mountain roads
+ Our driver speak very little in English, so if you need an English speaking guide for this trip, escort guide from saigon = 40$/ working days (upon request only)
+ For 2days or 3days rental car and Van in Dalat, please contact us for better rates:
info@vietnampathfinder.com or call/ whatsapp: 084.913323977
Dalat car rental - Da lat trips
16seats Van for your Dalat trips
Interior - 16seats Van for Dalat trips
7 seater Dcar Limousine Van for Dalat trips
7 seater Dcar Limousine Van for Dalat trips for small tour groups
Interior-7 seater Dcar Limousine Van for Dalat trips
We also provide private luxury van : 9-18 seaters Limousine for your trip from Ho Chi Minh city to Da Lat mountains or Opposite ways

Dalat at Night
Dalat mountains
Dalat school girls
Tuyen lam Lake in Dalat
Destination and Highlights:
Dalat is quite different from anywhere else you'll visit in Vietnam. You would almost be forgiven for thinking you'd stumbled into the French Alps in springtime. This was certainly how the former colonists treated it – escaping to their chalets to enjoy the cooler climate.
The French feel is compounded by a radio mast shaped like the Eiffel Tower and the local bohemian artists' predilection for swanning around in berets. Dalat is small enough to remain charming, and the surrounding countryside is blessed with lakes, waterfalls, evergreen forests and gardens.

1. Truc Lam Zen Monastery, The Meditation Center in Dalat
Location
On the way to Tuyen Lam Lake, tourists have to run right onto a zigzagging road at the mountain side to Phoenix Summit, on which stands beautiful famous Truc Lam Zen Monastery in an open poetic natural environment.
Historical records of Truc Lam Zen Monastery
Established in special social conditions, with the aim of restoring Truc Lam Yen Tu Zen School founded by the King Tran Thanh Tong, this Zen school has harmoniously combined different Zen schools with Vietnamese cultural and tradition into Vietnamese Zen. Truc Lam Zen Monastery lies on a protected forest of 23,2 hectares, of which 2 hectares is the building area.
With its advantage of location, Truc Lam zen monastery was designed with a new style of architecture by Mr. Ngo Viet Thu. The sanctum was designed by architecture Huynh Ngoc An. The sanctum has rectangle shape which is toward the South. Sanctum surroundings are a lot of traditional Vietnamese pagodas which were built by ferro-concrete. The monastery was designed modernly. It is simple in its form but modern in structure and use.
The pagoda was built in 1993 – 1994 by superior Buddhist monk Thich Thanh tu and it was designed with the oriental architecture style. With the beautiful landscapes, the pagoda is not only a place for meditation but also an ideal place for visiting.

Linh Phuoc pagoda-Dalat
2/ Records of Linh Phuoc Pagoda in Dalat
(Also called with another name is Dragon Pagoda)
Location
Linh Phuoc pagoda is located at 120 Tu Phuoc – Ward 11 which is in the northeast, 8km from the city center. Taking the train to Trai Mat to visit Linh Phuoc Pagoda in the chilly cold of the central highlands city of Da Lat is an exciting adventure for those who seek the sanctuary of a worshipping place and the unique architecture of Asian pagodas.
History of Linh Phuoc pagoda
Linh Phuoc Pagoda, also called Ve Chai Pagoda, was built from debris of glass, pottery bowls and porcelain between 1949 and 1952 in a remote residential area of Da Lat City. The pagoda has been led by many Buddhist monks and was renovated by Monk Thich Tam Vi in 1990.
The pagoda was built in 1949 and finished in 1952. It had being managed by 4 Buddhist monks, including Mr. Thich Minh The (1951 – 1954), Mr. Thich An Hoa (1954 – 1956), Mr. Thich Quang Phat (1956 – 1959) and Mr. Thich Minh Duc (1959 – 1985). Since 1985, Mr. Thich Tam Vi has managed this pagoda and it had a big restoration in 1990.
3/ Dalat Railway Station
The railway line to Da Lat was one of the finest feats of colonial engineering in Vietnam. Plans to build the Da Lat Railway Station were laid tabled at the turn of 20th century but construction did not commence until 1932. There was no point building a railway station without a railway line to get there and that was quite a challenge considering the rugged terrain and precipitous slopes.
The station has been recognized as a national cultural site and is very much a symbol of French Indochina. Today the only train trip you can take is the relatively short 7km tour that circumnavigates Da Lat, but the views from the train will help give you a sense of what the engineers achieved.
After the French occupied Vietnam, as part of the colonialists 'mission civilastrice', major infrastructure projects were initiated. The French installed electricity power stations, built French-style buildings as well as roads, parks, canals and of course a rail system. In the early 20th century, Paul Doumer, the French Governor-General of Indochina from 1897 to 1902, approved the construction of a railway line from Thap Cham in Ninh Thuan province to Da Lat at a cost of 200 million franc.
The colonialists hired Swedish engineers for the job, who had experience at building zigzag railways for use on steep slopes. Although the initial survey was conducted in 1898, construction of the first phase running from Thap Cham to Song Pha, just 38 kilometres, only commenced in 1908 and took seven years to be completed.
During the second phase the railway line was laid down from Song Pha to Eo Gio, just 10km as the crow flies, but it had to run over the vast Ngoan Muc pass. Work on the railway from Thap Cham to Da Lat continued until 1932. The last stretch was said to be the hardest as it traversed the Lam Vien Plateau, 1,500m above sea level. The construction of Da Lat Railway Station was subsequently completed in 1938. The railway station was among the first colonial-style edifices to be built in the area.
Attracting train trip for tourists at Dalat Train Station
But in 1997, as Vietnam's economy began to flourish and tourism industry was starting to thrive, the seven-kilometer railway tour around Da Lat city was initiated and has proven to be highly popular. The railway station was also restored. You can find vintage post boxes and time-tables still fixed on the walls and antique chairs and tables in the waiting rooms.
Outside there's an original Black Prairie steam engine which was manufactured in 1930 in Germany. The tour, which runs from Da Lat Railway Station to Trai Mat, has now run for a decade. It's worth taking for the spectacular views. This is Da Lat, the flower capital and fruit farm of Vietnam. All around the city you can spot orchards, rolling fields of vegetables and flowers, pine trees and lakes.
4/ Some other highlights such as: Bao Dai King Palace, The French old quarter, Dalat Flower Market

Dalat Map
Vietnampathfinder Car Rental Services - 17 years' experience.
We are a private and professional car rental company, head office based in Hanoi city capital of Vietnam, we have been providing car/ van rental services in Vietnam for over 17 years now, with large choice of private car/van/bus for working, business trip, family travel, also group tours for tourist, student groups...
Our private cars and coachs are all new, from standard to Luxury vehicles, limousine vans.
Our professional car rental services 24 hours a day, 7 days a week to and from all major Vietnam airports such as Noi Bai (in Hanoi), Danang (in Danang), Tan Son Nhat (in Hochiminh city) International Airports, Phnompenh and Siemreap (Cambodia), Vientiane and Luangprabang (Laos) Yangon (Myanmar)

Our prices remain consistent, there are no hidden costs and our customers rely on guaranteed quality service.

By using our online booking service, you can be assured that our drivers will be there to greet you at the Arrivals or Pick-up address on time. Advanced 24 hours booking reservations are required if you wish to use our online booking service.

To take advantage of our excellence in taxi service and for any special arrangements, we recommend you phone or email us 24 hours before your arrival/departure.

Our Transportation Services include:

+ Airport Transfers : Hanoi, Hai phong, Dong Hoi, Hue, Danang, Nha Trang, Dalat, Hochiminh, Can Tho, Phu Quoc
+ Seaport Transfers: Hai Phong, Cai lan (Halong), Tien sa (danang), Chan may (Hue), Vung Tau, Saigon
+ Long journeys departing from: Hanoi, Hue, Hoi an, Nha Trang, Hochiminh, Can Tho
+ Long journeys cross border (Vietnam-Indochina): Vietnam- Laos ( from Hanoi to Vientinae or Luangprabang), Vietnam-Cambodia (from Ho Chi Minh city to Phnompenh or Siemreap)

Day Bookings also available! You can book a car/ Bus for a whole day or for a few hours for which the service will be charged at an hourly basis.
-Airport transfer Inclusion of:
Road, bridge tolls, parking fees of day time( not night time), gasoline, car insurance and professional, licensed driver ( at least 4years of driving experience).


- Airport transfer Exclusion of:
Overnight parking fee (outside the cities of Hanoi and Ho Chi Minh).
And all other not mentioned in the routings


Car conditions:
All moderns (made in 2019-2020-2021-2022) with air-conditioning, seat-belts and all are new cars

Type of Car:
Ford , Mecerdes, Honda, Toyota, BMW, Huyndai

+ 4 Seats car for 3 passengers + 2 midsize suicases
+ 7 Seats SUV car for max 5 passengers + 3 midsize suicases
+ 7 Seats DCar Deluxe Limousine Van for max 6 passengers + 6 midsize suicases
+ 9 Seats SoLaTi Deluxe Limousine Van for max 8 passengers + 8midsize suicases
+ 16 Seats van for max 10 passengers + 6 midsize suicases (keep all back seats for your suicaces)
+ 18 Seats Business Class Limousine Mini-Bus for max 18 passengers + 18midsize suicases
+ 29 Seats Mini-Bus for Max 14 passengers + 14 midsize suicases (keep all back seats for your suicaces)
+ 34 Seats Bus for Max 26 passengers + 26 midsize suicases (keep some back seats for your suicaces and some in the trunk under your seats)
+ 45 Seats Bus for Max 40 passengers + 20 midsize suicases (Your suicaces will be stored in the trunk under your seats) or 30 Passengers with 40 midsize suicases (keep some back seats for your suicaces and some in the trunk under your seats)

-->>For quick questions or booking, please contact Whatsapp: (084) 913323977 (Mr Pham)


View our car, van, bus for hire in Vietnam-Laos-Cambodia-Myanmar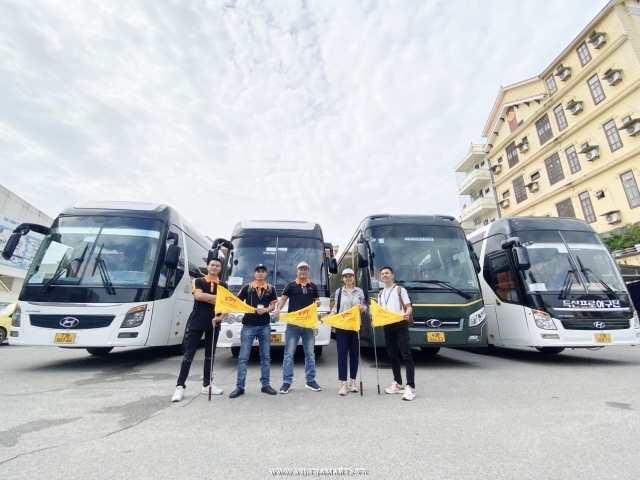 45seaters coachs of VietnamPathfinder (VPT)
45seaters coachs of VietnamPathfinder (VPT)


45 Seats Coach



45seats coach


30 seats mini-bus - Country 2017


29 seats - Mini-bus (Country)


35seats Bus -Thaco
45 seats Coach




Cabin of 45 seats coach


Interior of 45 seaters coach

30 seaters -Thaco -2017



Interior -30 seaters -Thaco -2017


Cabin of 30 seats mini-bus


29 Seaters - Universe 2022


Interior - 29 Seaters - Universe 2022


4seats private car
7 Seats Car Innova -2022
Sedona Van -7 seats
Sedona Van -7 seats
16seats Van


Interior - 16seats Van
16 Seats Mini-Van
Limousine - Van - Dcar Rental in Vietnam



Solati -9 Seaters -Van

Limousine Business Class - 18seaters
Interior - Limousine Business Class - 18seaters


Limousine - Van - Dcar Rental in Vietnam - Interior 7seaters


Luxury Car - Mercedes E-300 - Vietnam Car Rental


Mercedes E-300
Mercedes E-400 for business rental in Hanoi- Danang- Nha Trang- HCM city


For any urgent booking, please call direct to our support number/ Whatsapp: (084) 913323 977
Vietnampathfinder commitment is the delivery of bespoke, safe and best services
With a focus on experience, guest safety, quality control and service delivery, we will check every details to make sure that our travel sevices or your booking travel with us a most enjoyable. Each request is dutifully responded to within 24 hours unless negotiations and special requests are required on your behalf; our team of Vietnampathfinder will ultimately inform and follow up or you also can call us any time at 084. 913323 977 (Mr Pham).

Payment
100% of the total car rental costs to be paid upon commitment of the car rental.

We do accept payment methods:
+ Credit card = 2.7% bank fees is levied in addition to the invoiced amount. Kindly make sure you include the invoice number or contact our Accounting Department for an invoice number so that your payment can be identified. Please also check with the bank who issued your credit card to ensure that no other bank fee is applied.
+ Paypayl online = 4.7%, fast but high fees
+Cash on arrival: we accept in some cases with 50% deposit by paypal or credit card online and the balance of 50% by cash on arrival Vietnam (collect by tour guides, drivers directly from tour leader or your clients).

+ Bank transfer = 25$/ 1 time bank fees/ whole amount (takes 3 days to complete and easy, this is low bank fees for big amount)

Responsibilities:
+ To ensure our cars are not being used for any for any illegal or immoral purpose
+ Our cars and drivers will refuse to carry passengers who not in the booking list (Names) or Number of People in the party at booking confirmation.
+ Pick up location changes must to inform us at 12 hours before departure and will be applied the surcharge if over 3 km from the original booking
+ For airport pick up, if the flight will delay for over 1hour, we will apply the surcharge for 50% and over 2 hours will charge 100% (as a new booking car)
+ Incorrect information such as arrival flight numbers, gate number, dock number, hotel names, passenger names, border gate names, arrival visa trouble will be considered as the services done and renew ones will be full charged
+ We will not agree if you take the wheel as a part of safety reasons, our drivers are licensed to do this job.
+ Our drivers can refuse to drive you to the sites that out of our booked schedules/ itineraries, surcharge will be applied upon request

Cancellations & Refunds
Any cancellations should be made in writing to VietnamPathfinder Travel (email at: info@vietnampathfinder.com ). Cancellations beyond your control subject to Force Majeure can be covered under travel insurance. We recommend you buy Travel insurance before you complete payment of your travel and review its relevant product disclosure statement. Cancellation fees of loss of deposit will be applied if a confirmed booking is cancelled 22 days or more prior to arrival date

For bookings that are cancelled by the passenger or agent 21 - 15 days prior to arrival date, loss of 50% of the total car rental cost will be applied.

For bookings that are cancelled by the passenger or agent 14 - 8 days prior to arrival date, loss of 75% of the total car rental cost will be applied.

Vietnampathfinder reserves the right to claim 100% of the total car rental cost should the cancellation happen within 7 days before departure.


We reserve the right to modify these cancellations & refunds policies without prior notice.

Last Minutes Booking Policies
Last minutes bookings if the bookings are made in 72 hours, 48 hours or 24 hours before departure

Less than 24 hours before your trip departure, please email us at: info@vietnampathfinder.com or Call at 084 913323977 and only process the final booking on our website when get confirmation emails from our sale teams.

Refund and amendment will not be applied for last minute bookings.

Special surcharge during Vietnam Tet Lunar New Year:
We will request a special surcharge during 3days of Vietnam Tet Lunar New Year, this surcharge is added further 20%/ each day (during 3days of Tet Holiday period) and will inform you before process the booking our car

Hope you would like the information!
Should you have any question, please don't hesitate to write us, we are here to help!
With appreciation for your:

+ Your email will be invisible
+ We will respond to your email or on this page