Trip code: C-739
Routing: Hochiminh-Phnompenh-Siemreap-Bangkok (6D5N)
Type of car: County, Thaco (29 Seats)
Number of seats: Mini-bus 29Seats
Validity: 2023-12-31
Price: 3,575.0 $
We accept payment via:
|
We are the Indochina bus rental company with office based in Hochiminh city, Phnompenh, Siemreap, Bangkok and provide private bus rental from 30 seats bus to 45 seats coachs (driven by local licensed drivers) for transfering across the Indochina of three countries from Hochiminh city of Vietnam to cross the land border into Phnompenh of Cambodia, then heading for Poipet border from Siemreap for Bangkok of Thailand, this is a amazing trip to discover the three beautyfull destinations in just one trip of 6 days with a proposal itinerary as following:.
Travel schedules (can be changed to meet your idea):
Day 1: Arrival Ho Chi Minh City
Day 2: Ho Chi Minh City tour full day
Day 3: Ho Chi Minh City – Moc Bai border (Bavet border-Cambodia) – Phompenh city Tour (some over 5 hours driving from HCM city to Phnompenh)
Day 4: Phnompenh City – Siemreap City – Angkor Wat temple visits (some 7 hours driving from Phnompenh to Siemreap)
Day5: Siemreap Temple Tour – Poipet Border (Cambodia – Thailand)- Bangkok city (some over 10 hours driving from Siemreap to Bangkok)
Day6: Bangok half day sightseeing city – Airport departure


Bus rental Inclusion: Local licesned drivers (Vietnam, Cambodia, Thailand), private 30 seats bus (in three countries), gas, road tolls, parking fee
Bus rental Exclusion: Local licesned tour guides, hotel rooms, meals, travel insurance, visa, sightseeing fees, any personel expenses
Note:
+ 30 seats bus for group sizes from 20-25 people
+ Border gate working time from 08.00 am to 04.30 PM and you will check in/ check out procedures (by yourself) at the International border gate Vietnam - Cambodia (at Moc bai - bavet) and Cambodia -Thailand (at Poipet Border gate)
+ We will use local buses and local licensed drivers in three countries
+ We advise to hire an escorted tour guide (English speaking guide) to handle the trip from arrival till departure dates (6days 5nights), total costs = 800 USD/ group of 25 people ( costs around 32 $/ per passenger)
Please contact us further information at Email: info@vietnampathfinder.com or whatsapp: (084) 913323977
TRIP HIGHLIGHTS:

1. the Reunification Palace (Hochiminh city - Vietnam)
"Reunification Palace (Hoi Truong Thong Nhat) is one of the most fascinating things to see in Saigon
Located in the heart of downtown Saigon, the Reunification Palace was built on a block of 12 hectares,
Under the Saigon regime, the "Independence Palace" always symbolized the power of the government of "South Vietnam." In the end, on the morning of April 30, 1975, a tank of the Liberation forces crashed into the iron gate of the palace terminating the existence of a regime.
2. Cu Chi Tunnels (Vietnam)
Cu Chi Tunnels consist of more than 200km of underground tunnels. This main axis system has many branches connecting to underground hideouts, shelters, and entrances to other tunnels.

Location: Cu Chi Tunnels are located approximately 70km northwest of Ho Chi Minh City centre in Cu Chi Rural District.
Characteristic: Cu Chi Tunnels consist of more than 200km of underground tunnels. This main axis system has many branches connecting to underground hideouts, shelters, and entrances to other tunnels.
Cu Chi District is known nationwide as the base where the Vietnamese mounted their operations of the Tet Offensive in 1968.The tunnels are between 0.5 to 1m wide, just enough space for a person to walk along by bending or dragging. However, parts of the tunnels have been modified to accommodate visitors. The upper soil layer is between 3 to 4m thick and can support the weight of a 50-ton tank and the damage of light cannons and bombs. The underground network provided sleeping quarters, meeting rooms, hospitals, and other social rooms. Visiting the Cu Chi Tunnels provides a better understanding of the prolonged resistance war of the Vietnamese people and also of the persistent and clever character of the Vietnamese nation.
3. The Tuol Sleng Genocide Museum (Phnompenh of Cambodia)
The Tuol Sleng Genocide Museum is a museum in Phnom Penh. The site is a former high school which was used as the notorious Security Prison 21 (S-21) by the Khmer Rouge communist regime from its rise to power in 1975 to its fall in 1979. Tuol Sleng means "Hill of the Poisonous Trees" or "Strychnine Hill". In 1979, the prison was uncovered by the invading Vietnamese army. In 1980, the prison was reopened by the government of the People's Republic of Kampuchea as a historical museum memorializing the actions of the Khmer Rouge regime.
4. The Royal Palace in Phnom Penh (Phnompenh of Cambodia)
The Royal Palace in Phnom Penh was constructed over a century ago to serve as the residence of the King of Cambodia, his family and foreign dignitaries, as a venue for the performance of court ceremony and ritual and as a symbol of the Kingdom.
The establishment of the Royal Palace at Phnom Penh in 1866 is a comparatively recent event in the history of the Khmer and Cambodia. The seat of Khmer power in the region rested at or near Angkor north of the Great Tonle Sap Lake from 802 AD until the early 15th century. After the Khmer court moved from Angkor in the 15th century, it first settled in Phnom Penh in 1434 (or 1446) and stayed for some decades, but by 1494 had moved on to Basan, and later Lovek and then Oudong. The capital did not return to Phnom Penh until the 19th century and there is no record or remnants of any Royal Palace in Phnom Penh prior to the 19th century. In 1813, King Ang Chan (1796-1834) constructed Banteay Kev (the 'Cristal Citadel') on the site of the current Royal Palace and stayed there very briefly before moving to Oudong. Banteay Kev was burned in 1834 when the retreating Siamese army razed Phnom Penh. It was not until after the implementation of the French Protectorate in Cambodia in 1863 that the capital was moved from Oudong to Phnom Penh, and the current Royal Palace was founded and constructed.
5. Angkor Wat Temple in Siemreap (Cambodia)
The temples of Angkor, built by the Khmer civilization between 802 and 1220 AD, represent one of humankind's most astonishing and enduring architectural achievements. From Angkor the Khmer kings ruled over a vast domain that reached from Vietnam to China to the Bay of Bengal. The structures one sees at Angkor today, more than 100 stone temples in all, are the surviving remains of a grand religious, social and administrative metropolis whose other buildings - palaces, public buildings, and houses - were built of wood and have long since decayed and disappeared.
6. The Bayon Temple of Cambodia
The Bayon temple is a well-known and richly decorated Khmer temple at Angkor in Cambodia. Built in the late 12th century or early 13th century as the official state temple of the Mahayana Buddhist King Jayavarman VII, the Bayon stands at the centre of Jayavarman's capital, Angkor Thom. Following Jayavarman's death, it was modified and augmented by later Hindu and Theravada Buddhist kings in accordance with their own religious preferences.
7.Cambodia's Great Lake, the Boeung Tonle Sap (Tonle Sap Lake,) is the most prominent feature on the map of Cambodia - a huge dumbbell-shaped body of water stretching across the northwest section of the country. In the wet season, the Tonle Sap Lake is one of the largest freshwater lakes in Asia
8. Wat arun (Bangkok of Thailand)
Locally called Wat Chaeng, wat arun or the Temple of the Dawn, Bangkok, is an ancient temple dating back to the Ayutthaya Period. It used to be called Wat Makok in the Thonburi Period. When the King of Thonburi had the capital moved from Krung Si Ayutthaya to Krung Thonburi, he also brought the Emerald Buddha from Vientiane to enshrine in Wat Arun, before it was later transferred to Wat Phra Kaew (the Temple of the Emerald Buddha). In the Rattanakosin Period, Wat Arun was restored and renamed Wat Arun Ratchatharam by King Rama II. Another restoration finished in the reign of King Rama IV and the temple's name was changed again to Wat Arun Ratchawararam. As one important temple in Thailand history, there are many unique attractions in Wat Arun in Bangkok especially the central prang, a stupa-like pagoda encrusted with colorful glazed porcelain tiles and seashells, Giant statues, the Ordination Hall, the Bell Tower, and many Buddha statues.
10. The Grand Palace (Bangkok-Thailand)
The Grand Palace complex was established in 1782 and it consists of not only royal and throne halls, but also a number of government offices as well as the renowned Temple of the Emerald Buddha. It covers an area of 218,000 square metres and is surrounded by four walls, 1900 metres in length. After King Rama I ascended to the throne in 1782, the palace was built. Prior to this, the royal palace and centre of administration had been located in Thonburi, on the west bank of the Chao Phraya River. For various reasons, the new King considered the former capital to be unsuitable and decided to establish a new capital on the other side of the river.
Vietnampathfinder Car Rental Services - 17 years' experience.
We are a private and professional car rental company, head office based in Hanoi city capital of Vietnam, we have been providing car/ van rental services in Vietnam for over 17 years now, with large choice of private car/van/bus for working, business trip, family travel, also group tours for tourist, student groups...
Our private cars and coachs are all new, from standard to Luxury vehicles, limousine vans.
Our professional car rental services 24 hours a day, 7 days a week to and from all major Vietnam airports such as Noi Bai (in Hanoi), Danang (in Danang), Tan Son Nhat (in Hochiminh city) International Airports, Phnompenh and Siemreap (Cambodia), Vientiane and Luangprabang (Laos) Yangon (Myanmar)

Our prices remain consistent, there are no hidden costs and our customers rely on guaranteed quality service.

By using our online booking service, you can be assured that our drivers will be there to greet you at the Arrivals or Pick-up address on time. Advanced 24 hours booking reservations are required if you wish to use our online booking service.

To take advantage of our excellence in taxi service and for any special arrangements, we recommend you phone or email us 24 hours before your arrival/departure.

Our Transportation Services include:

+ Airport Transfers : Hanoi, Hai phong, Dong Hoi, Hue, Danang, Nha Trang, Dalat, Hochiminh, Can Tho, Phu Quoc
+ Seaport Transfers: Hai Phong, Cai lan (Halong), Tien sa (danang), Chan may (Hue), Vung Tau, Saigon
+ Long journeys departing from: Hanoi, Hue, Hoi an, Nha Trang, Hochiminh, Can Tho
+ Long journeys cross border (Vietnam-Indochina): Vietnam- Laos ( from Hanoi to Vientinae or Luangprabang), Vietnam-Cambodia (from Ho Chi Minh city to Phnompenh or Siemreap)

Day Bookings also available! You can book a car/ Bus for a whole day or for a few hours for which the service will be charged at an hourly basis.
-Airport transfer Inclusion of:
Road, bridge tolls, parking fees of day time( not night time), gasoline, car insurance and professional, licensed driver ( at least 4years of driving experience).


- Airport transfer Exclusion of:
Overnight parking fee (outside the cities of Hanoi and Ho Chi Minh).
And all other not mentioned in the routings


Car conditions:
All moderns (made in 2019-2020-2021-2022) with air-conditioning, seat-belts and all are new cars

Type of Car:
Ford , Mecerdes, Honda, Toyota, BMW, Huyndai

+ 4 Seats car for 3 passengers + 2 midsize suicases
+ 7 Seats SUV car for max 5 passengers + 3 midsize suicases
+ 7 Seats DCar Deluxe Limousine Van for max 6 passengers + 6 midsize suicases
+ 9 Seats SoLaTi Deluxe Limousine Van for max 8 passengers + 8midsize suicases
+ 16 Seats van for max 10 passengers + 6 midsize suicases (keep all back seats for your suicaces)
+ 18 Seats Business Class Limousine Mini-Bus for max 18 passengers + 18midsize suicases
+ 29 Seats Mini-Bus for Max 14 passengers + 14 midsize suicases (keep all back seats for your suicaces)
+ 34 Seats Bus for Max 26 passengers + 26 midsize suicases (keep some back seats for your suicaces and some in the trunk under your seats)
+ 45 Seats Bus for Max 40 passengers + 20 midsize suicases (Your suicaces will be stored in the trunk under your seats) or 30 Passengers with 40 midsize suicases (keep some back seats for your suicaces and some in the trunk under your seats)

-->>For quick questions or booking, please contact Whatsapp: (084) 913323977 (Mr Pham)


View our car, van, bus for hire in Vietnam-Laos-Cambodia-Myanmar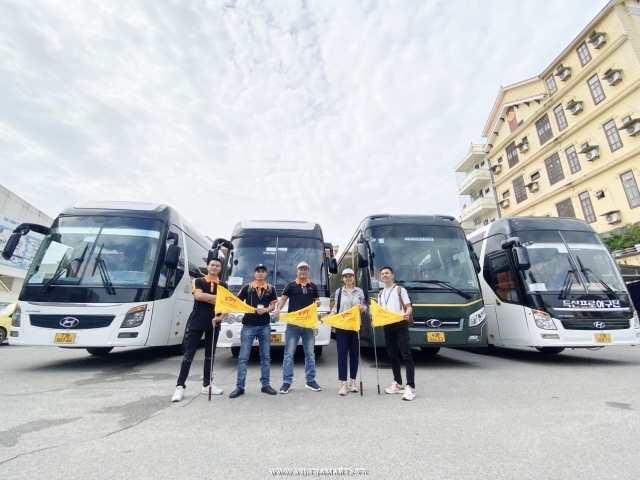 45seaters coachs of VietnamPathfinder (VPT)
45seaters coachs of VietnamPathfinder (VPT)


45 Seats Coach



45seats coach


30 seats mini-bus - Country 2017


29 seats - Mini-bus (Country)


35seats Bus -Thaco
45 seats Coach




Cabin of 45 seats coach


Interior of 45 seaters coach

30 seaters -Thaco -2017



Interior -30 seaters -Thaco -2017


Cabin of 30 seats mini-bus


29 Seaters - Universe 2022


Interior - 29 Seaters - Universe 2022


4seats private car
7 Seats Car Innova -2022
Sedona Van -7 seats
Sedona Van -7 seats
16seats Van


Interior - 16seats Van
16 Seats Mini-Van
Limousine - Van - Dcar Rental in Vietnam



Solati -9 Seaters -Van

Limousine Business Class - 18seaters
Interior - Limousine Business Class - 18seaters


Limousine - Van - Dcar Rental in Vietnam - Interior 7seaters


Luxury Car - Mercedes E-300 - Vietnam Car Rental


Mercedes E-300
Mercedes E-400 for business rental in Hanoi- Danang- Nha Trang- HCM city


For any urgent booking, please call direct to our support number/ Whatsapp: (084) 913323 977
Vietnampathfinder commitment is the delivery of bespoke, safe and best services
With a focus on experience, guest safety, quality control and service delivery, we will check every details to make sure that our travel sevices or your booking travel with us a most enjoyable. Each request is dutifully responded to within 24 hours unless negotiations and special requests are required on your behalf; our team of Vietnampathfinder will ultimately inform and follow up or you also can call us any time at 084. 913323 977 (Mr Pham).

Payment
100% of the total car rental costs to be paid upon commitment of the car rental.

We do accept payment methods:
+ Credit card = 2.7% bank fees is levied in addition to the invoiced amount. Kindly make sure you include the invoice number or contact our Accounting Department for an invoice number so that your payment can be identified. Please also check with the bank who issued your credit card to ensure that no other bank fee is applied.
+ Paypayl online = 4.7%, fast but high fees
+Cash on arrival: we accept in some cases with 50% deposit by paypal or credit card online and the balance of 50% by cash on arrival Vietnam (collect by tour guides, drivers directly from tour leader or your clients).

+ Bank transfer = 25$/ 1 time bank fees/ whole amount (takes 3 days to complete and easy, this is low bank fees for big amount)

Responsibilities:
+ To ensure our cars are not being used for any for any illegal or immoral purpose
+ Our cars and drivers will refuse to carry passengers who not in the booking list (Names) or Number of People in the party at booking confirmation.
+ Pick up location changes must to inform us at 12 hours before departure and will be applied the surcharge if over 3 km from the original booking
+ For airport pick up, if the flight will delay for over 1hour, we will apply the surcharge for 50% and over 2 hours will charge 100% (as a new booking car)
+ Incorrect information such as arrival flight numbers, gate number, dock number, hotel names, passenger names, border gate names, arrival visa trouble will be considered as the services done and renew ones will be full charged
+ We will not agree if you take the wheel as a part of safety reasons, our drivers are licensed to do this job.
+ Our drivers can refuse to drive you to the sites that out of our booked schedules/ itineraries, surcharge will be applied upon request

Cancellations & Refunds
Any cancellations should be made in writing to VietnamPathfinder Travel (email at: info@vietnampathfinder.com ). Cancellations beyond your control subject to Force Majeure can be covered under travel insurance. We recommend you buy Travel insurance before you complete payment of your travel and review its relevant product disclosure statement. Cancellation fees of loss of deposit will be applied if a confirmed booking is cancelled 22 days or more prior to arrival date

For bookings that are cancelled by the passenger or agent 21 - 15 days prior to arrival date, loss of 50% of the total car rental cost will be applied.

For bookings that are cancelled by the passenger or agent 14 - 8 days prior to arrival date, loss of 75% of the total car rental cost will be applied.

Vietnampathfinder reserves the right to claim 100% of the total car rental cost should the cancellation happen within 7 days before departure.


We reserve the right to modify these cancellations & refunds policies without prior notice.

Last Minutes Booking Policies
Last minutes bookings if the bookings are made in 72 hours, 48 hours or 24 hours before departure

Less than 24 hours before your trip departure, please email us at: info@vietnampathfinder.com or Call at 084 913323977 and only process the final booking on our website when get confirmation emails from our sale teams.

Refund and amendment will not be applied for last minute bookings.

Special surcharge during Vietnam Tet Lunar New Year:
We will request a special surcharge during 3days of Vietnam Tet Lunar New Year, this surcharge is added further 20%/ each day (during 3days of Tet Holiday period) and will inform you before process the booking our car

Hope you would like the information!
Should you have any question, please don't hesitate to write us, we are here to help!
With appreciation for your:

+ Your email will be invisible
+ We will respond to your email or on this page